Construction for the Metropolitan Transportation Authority's L train subway tunnel has been ongoing in Lower Manhattan, and recently, locals have noticed dumpsters filled with cartoonishly green ooze on the site. And no, this isn't some setup to a Ninja Turtles joke.

The sludge, which was first reported on by Gothamist Wednesday, can allegedly be seen from above ground at the construction on Manhattan's 14th Street in Alphabet City.

"It's weirdly green off and on like that," Penny Pennline, a 14th Street resident of more than 20 years, told Jalopnik over text. "It's so nasty."

It's unclear if the dumpster contents are actually as green as they appear in the photos. The MTA said the container should just be holding water, concrete, and dirt, according to Gothamist, which first reported on the mysterious ooze.

G/O Media may get a commission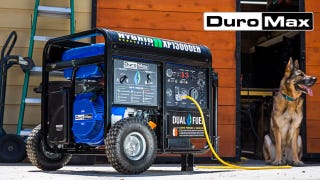 Black Friday Sale
DuroMax Generator Sale
When asked about the alleged sludge over the phone, MTA spokesman Shams Tarek seemed skeptical.
"Photoshopping would be pretty nefarious...We're not buying green [dumpster] liners—that liner's black. It might have something to do with the lights and the color balance on the camera," Tarek said. "We're looking into it."
Is it radioactive sludge? Probably not. Who knows! We probably wouldn't recommend swimming in it, though.
"It's usually not so bright, but I think that pic was at night so the lights were on it and made it glowing," Pennline said.

Patrick Ferguson, Pennline's neighbor and the photographer of the green sludge photo, blames what he said is a jet grouting operation on the site for the apparent sludge.
"Something in it is really green and it lights up in the street light," Ferguson told Jalopnik over the phone. "It never gets fixed. They never get their jet grouting operation fixed."
Ferguson also explained that the photo's green-ness is likely played up by lighting.
"It's lit up by the neon lights. It lights it up more," Ferguson explained. "That stuff in the bin smells of sulfur and petroleum product."
The construction seen here is part of the MTA's Canarsie Tunnel reconstruction project for the L train subway line. The work, which has been ongoing for months, is part of the lead up to what's set to be a 15-month shutdown of the line in Manhattan and its service to and from Brooklyn.

In addition to the alleged ooze, some locals who live on or near 14th Street in the area have complained about air, noise, and light pollution emanating from the construction site.

"When my nose started bleeding, I started freaking out," Pennline told Jalopnik on the phone in October. "My doctor said, 'You're probably having allergies to whatever they're digging."
"As soon as I leave this neighborhood, within a few days, I'm good," Pennline said.
The MTA, on the other hand, says it's doing its due diligence in regards to the construction.
"We have had dozens of meetings with neighbors of the L Project, have developed extensive procedures to minimize the impact of construction, and welcome practical ideas on how we can further protect local quality of life," Tarek said in an emailed statement. "We require our contractors to uphold strict guidelines regarding noise, vibration, air quality, and safety, are monitoring all of these impacts, and any suggestion otherwise is just false."
When the L Train's Manhattan service comes to a temporary end on April 27, 2019, around 275,000 subway riders will have to find a new way to get into Manhattan.
It's going to be a mess. Ooze or not.