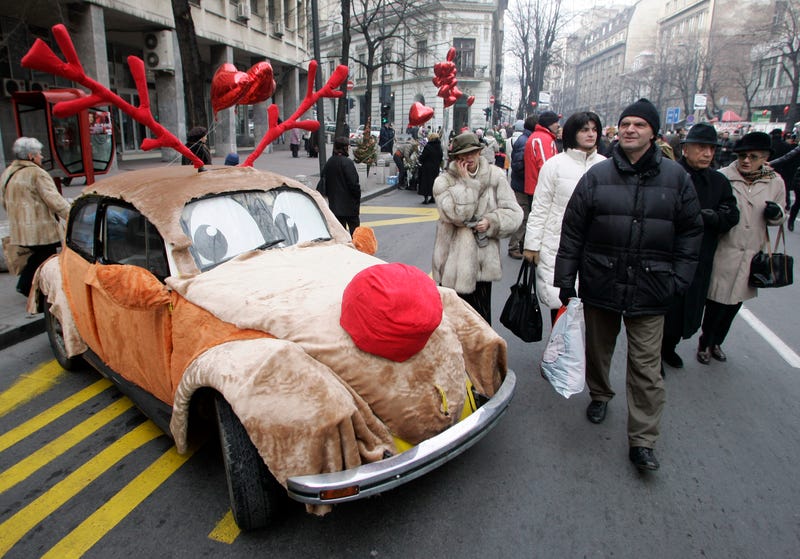 'Twas the weekend before Christmas, and, well—most people probably spent a lot of the time shopping for last-minute gifts that were supposed to be bought about a month ago (Black Friday deals, anyone?). If you did too, there's a good chance that you saw a few mobile Christmas decorations while out.
Decorations range from the innocuous, non-distracting reindeer ears and Rudolph noses to arrangements more elaborate than many houses have—just the other day, I saw a lifted truck with a cattle guard covered in Christmas lights and a wreath. Why, yes—I do live in Texas.
The point is, there are plenty of people around who deck out their cars for the holiday season. We know that you've seen your fair share of them, so tell us about the most outrageous lengths you've seen people go to in order to showcase their holiday spirit while driving.
Perhaps some folks even make their cars into turkeys for Thanksgiving or sport some traveling candles for Hanukkah (open flames not advised)—we won't exclude certain holidays. Just provide us with your best tales of mobile holiday decor. Bonus points for photos.
Also, good luck with the last-minute shopping, if that's your preferred method. Be sure to hold your ground if a self-entitled shopper wants to arm wrestle you for the last Wii Fit or something. (Is the Wii still hip and cool? Because I'm not.)
---
Photo credit: AP Photo/Darko Vojinovic
Contact the author at alanis.king@jalopnik.com.