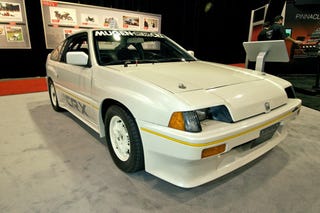 With the debut of both the unexpectedly not-ugly Chevy Aveo RS and predictably handsome Ford Fiesta, it's clear small and cheap doesn't have to be ugly and boring. What's the best-looking shitbox?
Econoboxes are rarely the fastest cars — the current generation Aveo barely huffs its way to 60 MPH in under 12 seconds. A few, like the Ford Fiesta RS we're likely never to get, can even perform. But even if your car ain't exciting to drive, shouldn't it at least look attractive.
Want proof? Any version of the CRX is good cheap fun in a sharp package, but we're particularly taken with the 1984 Mugen CRX DX. Both stylish and aggressive, it doesn't matter if the base is an economy hatchback because it looks like it just trotted off a race track. Dressed in white and supported by performance exhaust, tweaked suspension, LSD and super bright wheels it's sex wrapped in a pocket-sized package.
Clearly, this is just scratching the surface of budget-priced-but-heart-stirring economy cars. What cheapo crapbox do you find most visually appealing?
(QOTD is your chance to answer the day's most pressing automotive questions and experience the opinions of the insightful insiders, practicing pundits and gleeful gearheads that make up the Jalopnik commentariat. If you've got a suggestion for a good "Question Of the Day" send an email to tips at jalopnik dot com.)
(QOTD is your chance to answer the day's most pressing automotive questions and experience the opinions of the insightful insiders, practicing pundits and gleeful gearheads that make up the Jalopnik commentariat. If you've got a suggestion for a good "Question Of the Day" send an email to tips at jalopnik dot com.)