I drive more than 20,000 miles a year. My manual transmission BMW has taken a beating in both repairs and resale value. It's time to replace it with something else. What is the best car under $30,000 that can seat 4 comfortably, has good MPG, isn't a total bore to drive and won't plummet in value with all those miles?
First of all no matter what you buy, due to the mileage you put on your car the resale value is going to suffer. That being said, I would suggest cars that have a history of strong residual values certain brands like Honda and Toyota hold their value better with higher miles. Also, since you will be racking up miles quickly you are going to run out of warranty sooner than you would with average or below average miles, I would lean towards cars with above average reliability.
Plenty to choose under $30,000
If you want the "Miata of family sedans" you can try the Mazda6 (starting at $21,190 ). It looks sharp, MPG is on par with the others, it is pretty nice to toss around, and you can have it with a manual transmission if you like. However, the back seat is a little tight and long-term reliability is unknown.
G/O Media may get a commission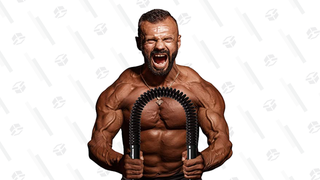 10% off
Zenooze Boa Power Twister
The Toyota Camry (starting at $22,970 ) is pretty much bullet-proof in terms of reliability. It is also fairly comfy, and returns good gas mileage. But if you are reading Jalopnik, I don't need to tell you that the Camry is about as fun as a day at the DMV.
The Volkswagen Passat TDI (starting at $26,825 ) is very spacious, gets great highway mileage, and you can still have fun rowing your own if you choose the six speed manual. While the motor and transmission should be pretty stout, I'm not sure you will want to deal with the maintenance cost of another German car once the warranty expires.
There is only one that is "just right"
If you are looking for the best compromise between comfort, reliability, fun and fuel economy, I would say the Honda Accord (starting at $22,895 ). Handling is a little stiffer than the Toyota and VW, but not as agile as the Mazda. Interior room and trunk space is fairly generous and the 2.4L four cylinder engine will return 36MPG with the CVT (which is actually a decent transmission especially compared to Nissan's unit). If you are looking for some driver enjoyment, I suggest getting either the Sport ($24,655 ) or the EX ($25,820 ) with the 6-speed manual transmission. It is hands down one of the nicest gearboxes you can buy and will even get the car to 60 in under seven seconds. The Accord also has the highest resale value of any mid-size sedan and has a long reputation for having fairly low operating costs.
Some folks will tell you to purchase a pre-owned Accord because it already has suffered the depreciation. I will advise against that for two reasons. First, given the amount of miles you drive you want to maximize your warranty as much as possible. So starting from zero miles is going to give you the most coverage. Second, because Accords hold their value so well, used ones (one to two years old) aren't that much cheaper than new ones. In fact you with some smart shopping you may be able to get a brand new car for the same price or less than a pre-owned model.
Of course if you did want to get a really inexpensive used car to beat up on long commutes. Take your pick from this list for less than $5,000 . Then get a pre-owned Miata for fun and pocket the rest for gas and maintenance.
If you have a question, a tip, or something you would like to to share about car-buying, drop me a line at AutomatchConsulting@gmail.com and be sure to include your Kinja handle.
Image: AP