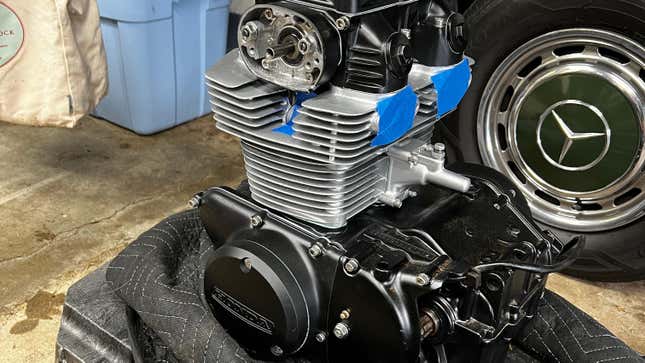 Working on one's own car can be a source of joy and excitement, or it can be a miserable frustrating experience that leads you to spew obscenities at the vehicle and everyone around you. The difference between the two can often be having the right tool, and sometimes that's a specialist tool beyond your average ratchet and socket set or impact driver.
A great example of this is the special socket I needed to install or remove the oil cup on my 1969 Honda CB350 project. It's a pretty simple tool, just a socket with four drive teeth at the end to grab a toothed nut inside the spinning cup that serves as an oil filter for my lil' Honda, but without it, I'd be cursing and breaking stuff. I spent the 16 bucks to have one in my toolbox.
Another, that's less model-specific and more job-specific example, is a ball joint press. For those of you unfamiliar, this is a simple tool that does the same job as a pickle fork and a big hammer, but does it with way less drama and effort and much less of a chance of wrecking the joint if you want to reuse it. In doing the suspension replacement on my 911 recently, it was an invaluable tool that only cost me $40 and which should last damn near forever.
So, I pose this to you, our feral commentariat: What is your favorite specialized tool for working on your car or transportation? It could be a model-specific tool like the drain plug socket for VWs and Audis or a useful tool for a specific job like a one-piece spring compressor tool that won't slip off the spring and blow up in your face.