Good Morning! Welcome to The Morning Shift, your roundup of the auto news you crave, all in one place every weekday morning. Here are the important stories you need to know.
1st Gear: What Mergers Work And What Mergers Fail?
The hype around a proposed merger between Fiat Chrysler and General Motors has cooled over the past few months, which is probably a good thing for everyone who isn't Sergio Marchionne. But this morning Automotive News has an in-depth look at which automaker mergers and acquisitions have been successful and which ones haven't, and why.
The key, AN says, is a lack of overlap. Successful mergers complement one another instead of creating conflict over who's supposed to be doing what. Renault-Nissan, Ford and Mazda when that was a thing, and even Fiat Chrysler lately are good examples. From the story:
One overlooked and underestimated factor can be found in the turmoil Press glimpsed in those nascent GM-Chrysler discussions seven years ago: When merger partners have overlapping operations, the drive to wring out costs often results in a fight for survival among the troops.


[...] Tata's acquisition of Jaguar and Land Rover and Geely's takeover of Volvo are two examples. Volkswagen has become one of the largest and most profitable companies in the industry in part through acquisitions — of Bentley, Lamborghini, Skoda and Porsche.

Most of these involved little integration. Bentley and Lamborghini extend Volkswagen's reach into rarified segments of the industry. Tata has provided financial support for JLR; it hasn't merged the brands with its emerging market operations.

These deals work in part, Hoffecker said, because they "amount to filling holes in someone's strategy."
G/O Media may get a commission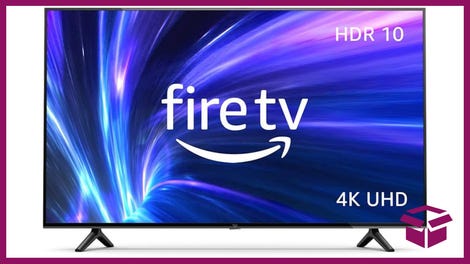 42% Off
Amazon Fire TV 50" 4K Smart TV
That whole story is worth a read, and it's definitely an indictment on a Fiat Chrysler-GM merger, which may succeed in reducing costs but would be hard to be seen as anything other than a massive conflict between the two.
2nd Gear: No More Advertising Toyotas Below Invoice Price
Taking a page from Honda's playbook, Toyota is set to ban all dealers from advertising their cars below invoice price. If dealers don't comply, they'll pay the price. One more from Automotive News, starting with how Toyota will emulate Honda here:
Honda brand dealers are prohibited from advertising vehicles below invoice whether in print, online or broadcast media. After three offenses in one year, a dealership can lose its marketing assistance, which can be $400 per vehicle for many dealers.

Those are among the most stringent ad guidelines in the industry. Honda argues they are in place to protect the brand, which, in practice, has helped Honda vehicles retain some of the highest residual values among all brands.
Not all dealers are happy with the move, like one who operates a no-haggle, one price shop:
Stewart said he doesn't want to advertise the vehicles for more because consumers suffer when their online shopping shows no prices below invoice at any local dealership. He said that's unfair to customers, and he has asked his attorney to look into whether a case could be made that the impending Toyota ad guidelines could constitute price fixing.
3rd Gear: The Tech-Auto Industry Cross-Pollination Continues
Reuters reports this morning that Jamie Carlson, a senior engineer from Tesla, has been poached by Apple. What did he do at Tesla, you ask? He worked on autonomous driving.
According to Carlson's LinkedIn profile, he joined Apple in August in an unnamed position in a special projects group.

Through July, Carlson was an engineer on Tesla's Autopilot self-driving car program, and before that he worked on automotive vision systems for Michigan-based supplier Gentex Corp.
While the exact form of the "Apple Car" is unclear, the tech giant has been poaching auto engineers over the last year from BMW, Volkswagen, Bosch and other companies.
4th Gear: The Average Used Car Price Is Now $18,800
The average new car price in America is now almost $34,000, and as a result of that climb, used car prices are getting pulled up as well. The new average is $18,800. From The Chicago Tribune:
The price growth mirrors the average transaction price for new light-duty vehicles, which hit a near-record $33,340 in the second quarter this year.

"People are buying more trucks and SUVs, and they're getting them better equipped," said Jessica Caldwell, analyst at Edmunds.com. "More expensive new vehicles means more expensive used vehicles."
5th Gear: UAW Pushes For An End To Two-Tier Wages
Over the past few years the United Auto Workers has employed a two-tier wage system for hourly employees that greatly benefits veteran workers over newer hires. Nobody's really happy with it, and as contract negotiations continue this fall, union activists will try harder than ever to kill it. From The Detroit Free Press:
Auto workers need to continue to speak out to pressure UAW leaders as well as the Detroit Three to eliminate the two-tier wage structure in this year's contract negotiations, according to union members and retirees who spoke Sunday at an event in Detroit.

"It's now or never on ending two tier," said Jim Tyson, who drives trucks that deliver parts for Fiat Chrysler Automobiles.

Tyson and others worry that if the two-tier structure that pays different groups of workers different wages for the same work isn't eliminated when times are good for the U.S. auto industry, it will become a permanent part of the contract.
Reverse: We Need More Women In F1 Today
Maria Teresa de Filippis–the first woman ever to compete in Formula One racing–drives a Maserati in the Portuguese Grand Prix at Oporto on August 24, 1958.
Neutral: What Was The Best Merger Ever?
What was the worst? And do you agree with AN's assessment about what makes them work?

---
Contact the author at patrick@jalopnik.com.