Recently, my lovely coworkers volunteered me to ride on the back of a racing motorcycle, the kind used in MotoAmerica, at Austin's Circuit of The Americas. I feel like we've known each other for a long time on this blog, friends, and I need to be honest with you: I was scared to death. In a good way. I think.

When Jalopnik got the email asking if someone wanted to come out and do this, my immediate thought was, "Nope, not I." Since most of you don't know, I broke my arm on a bike with training wheels when I was 3 years old. A devil-child of a friend knocked me off and I shattered my elbow. I haven't been the biggest fan of two-wheeled things since.
But it wasn't long before my boss, Patrick George, had a new email in my inbox.
"Alanis, you get my vote. Don't die", he said, too busy to even finish the sentence with proper punctuation.
Great. Thanks, man.
G/O Media may get a commission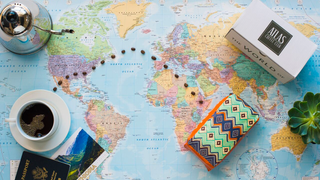 First Bag Free
Atlas Coffee Club - Free Coffee
Explore global coffee
With each bag, Atlas includes details on the coffee's tasting notes and a postcard about the region and its coffee history. And when you subscribe, you have options to tailor frequency, grind size, and roast preference of your beans, so you'll always be brewing the perfect cup.
So, I went out to the track with the fear of God in me and accepting that this could, in fact, be my final mission. The first thing they had me do was sign a death waiver, naturally, and then put on a racing suit I'd wear around for an hour before getting on the bike.

The bike was a Suzuki GSX-R1000 raced in prior MotoAmerica seasons—a 1000cc motor with 205 horsepower to move just 400 pounds of weight. My pilot was Chris Ulrich, a professional racer since 1999 who's done this whole two-seater thing nearly 1,000 times with no incident.
Hearing that makes you feel better about it all, for like two minutes. Maybe.
They also told us that during a lot of those earlier rides, the passengers rode without a handle to grip on for your dear life on the gas tank. There are indeed people out there braver than I.

Compared to around 196 mph in the racing draft, Ulrich can do up to 170 mph with somebody on the back. I'm not sure how fast we went, because I was too busy contemplating my life choices and trying to make peace with all of my unfinished earthly business—I didn't want to come back and haunt you all—but I do know that my butt came off of the seat every single time we took a corner.
I regretted this decision as soon as I got on. We shot up toward the track's infamous first turn, an uphill blind left with a late apex, and immediately started taking corners at lean angles so extreme that I really don't want to think about them right now. We accelerated into the circuit's esses and leaned from one side to the other so quickly that it felt like being on some kind of roller coaster with no restraints.
You can't hear it in the audio because it's all bike sound, but I spent most of the ride going, "No, no, no, no, NO, no, NOOOOOO, no no no, no, NO, oh no" every time we braked into a corner. I hope Ulrich didn't hear it. As you can see in some portions of the video, my eyes are so wide that they look like they may pop out of my head. Yeah, I thought so too.
Then I looked down and saw asphalt just inches from my face. More intense lean angles. Great. Look forward again, Alanis. It's more peaceful that way.
Ulrich says he went easy on me for the first half of the first lap, which is the lap included in the video above. But it wasn't easy. Don't listen to him.
Think about that. Being on the back of a bike with a professional racer for two laps at Circuit of The Americas, going something like 170 mph, and your butt keeps coming off of the seat. This is what I signed up for as a career.

But! I'm here, alive and well to blog another day, because Ulrich is quite good at what he does. Me, on the other hand, I proved to be pretty good at just hanging on.