Jori Hakkarainen.
I'm sorry it might just be me, but (in addition to having far too many vowels and not enough consonants) do all Finnish names sound like the people they are attached to were born to be rally superstars? Well in this case Mr. Hakkarainen is well named. Jori was a Junior rally star and competed in several Finnish National rallies with much success. Now, Jori has the enviable job of being charge of Nokian Tire's massive 1,800 acre winter test facility in Ivalo, Finland.
He drifts on snow all day long and took me with him.
For those of you who don't know anything about Ivalo (I'm going to go out on a limb here and assume that's gonna be all of you), it is 300km north of the Arctic Circle, it gets as cold as -50 degrees below zero, and starting in early December residents don't get to see the sun for almost two months. Oh also, from the tallest hill in the city you can see Russia (which apparently now makes me as much of an expert on foreign policy as Sarah Palin).
Known as the "White Hell" (in deference to the Nurburgring's nickname of the "Green Hell") Nokian has the only facility in the world that is entirely dedicated to winter tire testing. Encompassing three lakes and over 100km of almost permanently frozen roads and trails, the scale of the facility is massive.
G/O Media may get a commission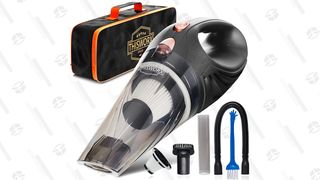 Save 50%
ThisWorx Car Vacuum Cleaner
Nokian Tire spends over 50% of product development costs on testing, so the facility is in use more than two thirds of the year for tire testing. In addition several well known car manufacturers do extreme winter testing for their cars there as well.
However, one of the perks Jori get for running a facility like this is, that once things slow down a bit Jori has access to 1,800 acres of frozen heaven and the skills (and an unlimited supply of Nokian Hakkapeliitta 7 tires) to be able to use them the way God intended... by hooning the living crap out of them.
And did I forget to mention that Nokian has an Audi RS4 dedicated to just this purpose. I LOVE these guys!
Doughnuts in an RS4 on a frozen lake in Finland anyone? Yes please!
Sideways for 20km through a forest covered in 2 feet of snow? I'll take an order of that!
After spending the better part of the day having the most fun imaginable chasing Jori around it was time for us to head back. It was only then that Jori decided to mention the snowmobiles and ice go-karts...... As we had a deadline to keep, I was seriously about to strangle our host when he quickly (and quite wisely) invited us back for another go next winter.
Ice go-karts in February at the Arctic Circle? You betcha!
Full Disclosure: Nokian Tires wanted me to write this story so badly that they graciously let me drive myself for 4000km and add to my collection of foreign photo radar tickets in a borrowed S60 R Design (thanks Volvo). They also put me up in a hotel in Ivalo (whose breakfast buffet included eleven types of dried fish) and filled up my gas tank (which in Finland apparently, is the equivalent of paying off someones mortgage.)
(Robb Holland is, among other things, the first American driver in the British Touring Car Championship in 37 years. )