Jeff Westphal did the unthinkable when he won pole position at this year's Nürburgring 24 Hours. He became the first American in the race's 45-year history to win pole position and he did it with an American-owned team, in a car dreamt up by an American. All while competing against teams supported by major manufacturers like BMW and Mercedes.

Westphal raced the No. 704 Traum Motorsport SCG 003C at this year's Nürburgring 24 Hours. The SCG 003 is American racing enthusiast Jim Glickenhaus' idea of the perfect track and street car, and the SCG 003C is its racing-only version. The car took a lot of inspiration from purpose-built racing prototypes, but adapted it to GT3 specs. It's a delightfully insane, boundary-pushing design that looks like more like a low-flying spaceship with wheels than your standard GT racer.

"It was a bit of a national pride thing for me," Westphal told Jalopnik of his landmark pole win in a phone interview. "It was pretty neat to be able to do it for American owners and to be the American who did it."

While the Nürburgring 24 Hours has much of the feel of a friendly grassroots race, much of the field is stacked with full-time professional drivers who Westphal describes as "top level for the world of sports cars." Of the over 40 GT3 cars entered, Westphal says that about 35 of those teams were factory-backed efforts. Beating them isn't just kind of neat—it's a huge feat in the racing world.

G/O Media may get a commission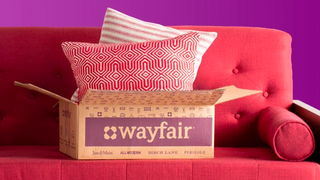 Big deals
Wayfair Surplus Sale
The Outsiders

Many of Westphal's competition considered the Nürburgring their home turf. Only two non-Germans have ever won pole position there. Westphal is one of them.
"It was a win for us, for sure," Westphal said. "Everyone on the team was so elated, and to be frank, we all needed it because it's a very difficult thing to compete against manufacturers like that at a level that's that high. [Our] mechanics were beat up. They were pulling all-nighters to get the car prepped, and everyone's tired."
This year was the SCG 003C's third attempt at the Nürburgring 24 Hours, and while they didn't finish, they certainly proved that an outsider to the European racing scene can break in and be the fastest. Few at races like the Nürburgring 24 expect American racers to be fast, according to Westphal.
"There's always a little bit of the 'oh, you're American, you're second-tier to European drivers,'" Westphal said. "I think that whether that's spoken or not, it's felt. It's an uphill battle...being that we're from a country that's not viewed to produce the same type of racing talent."
"If you look at the results from our qualifying from both of our cars...I think it's a bit of a moot point," Westphal said. "Good drivers are good drivers, regardless of where they're from."
The highly awkward political situation going on off the track between the leaders of the United States and Germany never enter the picture. At the Nürburgring 24 Hours, it's all about racing the cars.

"Usually motorsport and cars—it's such a common thread that it brings all shapes and types together and it kind of neutralizes a lot of the preconceived differences most people would have," Westphal said.

The smaller Traum Motorsport effort even attracted some big-name congratulations after winning pole position.

"A representative if not the head of motorsport from all of the manufacturers at one point or another came over and congratulated Jim [Glickenhaus] and Chris [Ruud], the two who had kept this project alive," Westphal said. "Jim obviously dreamed it up, but Chris was the one who funded both the cars for this event...and they both were super happy for us, congratulating everybody. It was really deserved and we worked hard for it."
Getting Into One Of The World's Toughest Races

Westphal started racing relatively late in life, at age 20. He raced with the Skip Barber and Jim Russell series before moving into F2000 cars for three years. That opened up tests with Indy Lights and Grand Am. From there Westphal ended up moving into sports cars and has been racing there ever since.
He was asked two and a half years ago to join the SCG 003 project, which is Scuderia Cameron Glickenhaus' low-volume sports car built around the GT3 rules. It's a lot like the GTE-spec Ford GT endurance race car in that way—the Scuderia Cameron Glickenhaus folks looked at what the GT3 regulations would allow and built the fastest possible car they could within those rules. The road car followed the race car's lead, not the other way around.

"We built the car to the letter of the rules of GT3," Westphal explained. "We've done what the rulebook allows us to do, and the other manufacturers could do the same as well. I mean, if you look at Ford building the GTE car for Le Mans, it's a very similar take on the rulebook."
"Actually, Ford engineers were looking at the car at [the] Geneva [Auto Show] two years ago and asking questions about greenhouse space," Westphal said, explaining that there's a very tricky rule around the greenhouse area on GT race cars. "When you look at the two cars side-by-side, there's actually a lot that's similar."
When Westphal joined the team, they had a solid concept for the SCG 003, but not a lot of test time. They had drivers from various backgrounds in motor racing to help them get there, but had to figure out test time.

The Nürburgring Is The Only Place To Test For The Nürburgring

The team quickly learned that there's nowhere they could test that could come close to simulating laps on the Nürburgring. They could test the car at other venues and crank out virtual laps on simulators, but they could never get the same mix of harsh bumps, hills, fast sweepers and tight corners. Replicating the 'Ring's over 8-minute laps anywhere else was impossible.

So, the team had to spend a lot of time testing and racing at the Nürburgring just to get it right. Westphal estimates that he got 400 to 500 laps of the 'ring before this year's 24-hour race, participating in about five races there a year with between six to eight hours of seat time in each race.
"I've gotten to learn particular bumps and cambers that I can use in the dry, but I can't use in the wet—really subtle stuff on a lap that's over eight minutes long," Westphal said.

Things like the weather can have bizarre effects on races there, thanks to the sheer length of the track.

"The normal challenges you incur in a 24-hour race are tough, and then you do it at a circuit where it'll be raining on one half and not on the other," Westphal explained. "You're going to burn up your wet tires, so you're going to have to stay out slicks driving on the rain."

This year, the team did three of the regular VLN series races at the Nürburgring ahead of the 24 Hours. They even led one race this year for a while, but a brake failure with about 20 minutes to go took them out of the lead. (Ouch.)
Making Sure The Car Can Compete

Part of Westphal's hero pole-setting lap happened behind the scenes, before it even got on track. Most manufacturers test a car for 12 to 18 months before they ever race it, but the SCG 003C jumped right into racing. Fortunately, the smaller company behind the SCG 003C can move faster than their huge corporate counterparts, but they were still playing catch-up.

This year, upgrades to the car's suspension and tires made the biggest difference. The team participates in Dunlop's experimental tire program, which allowed them to make certain requests for the tires the car ran.

Suspension upgrades were the biggest tweak, though, to keep everything level and controllable.

"We jump the car four wheels in the air three times every lap," Westphal said. "The car hits the bump stops at 170 mph. All four corners compress and hit the bottom of the travel every lap. It's really, really hard on the machine."

The SCG 003C's rigid carbon tube absorbs even less of the force of those bumps than a conventional metal-body road car, so the SCG 003C relies a lot on its suspension. For this year, the team made the suspension more compliant by lowering the spring rate (to keep it from bouncing around) and increasing the shock force to eat up those bumps.

Because it's a flat-bottom GT3 car that relies on its aerodynamics to turn out fast laps, the car needs to be kept relatively level on the ground for those aerodynamic components to work as intended. Having the suspension to do that was key.

[Never mind the title card; this is the correct onboard for Westphal's car.]

How This Year's Race Unfolded

But it wasn't all the car. Westphal was the one who delivered a mind-bendingly fast qualifying time of 8:15.427, winning pole position.
"To be able to be chosen from the group of drivers to be the one to go qualify was an honor in the first place," Westphal said. "Then being able to reward them with all of the hard work over the past two years by getting pole was an amazing feeling for me."
Westphal wasn't even pushing the car as fast as he could go (often expressed as "ten-tenths"). Westphal's qualifying and race laps were closer to nine-and-a-half-tenths. Endurance cars are very good now, but still not flawless, and Westphal has to take it easy to keep things on the car from breaking or rattling loose.
The race itself didn't go as well as the pole lap. Westphal's first stints in the car were spent battling for the lead, with the exception of one frustrating moment in traffic that perfectly encapsulates everything that's insane about multi-class racing on the Nürburgring:

"I actually got passed by [Audi driver] René [Rast] in traffic in the Stefan Bellof esses, which are a fifth gear, shifting to sixth, flat out, left-right sequence that's crowned in the road and everything's blind," Westphal said. "I caught a slower-class BMW where the closing rate [of speed] for us is about 40-50 kph faster than what they're doing going into this section. [...] I put my nose to the left and then the slower car moved to the left to try and get out of our way. So I got held up, and René flew by me."

Such is traffic on the narrow Nordschleife. Fortunately for Jeff, he was able to jump back ahead of Rast's Audi when he got on the gas at the end of a slow zone before Rast did.
Later in the race, the No. 704 got rear-ended when a Black Falcon Mercedes didn't slow down enough for a slow zone on the track. The Mercedes hit the No. 704, forcing it into the garage for 12 minutes to repair the diffuser and bodywork at the rear of the car.

Anywhere else, you can use safety car restarts to jump ahead of other cars and make up for laps lost in the pits, but not here. Because it's such a long circuit, there are no safety car periods where traffic bunches up for a restart. Instead, they use slow zones to let track staff take care of any on-track incidents, which leaves traffic spaced out further and makes it even harder to make up for lost time if you have to come in for unexpected repairs.
Even thought the No. 704 was able to climb back up to only being one lap behind the leaders by the morning, one of Westphal's teammates crashed out in the final hours of the race after hitting oil left from a prior incident on the track.

"There's so many cars, and so many things going on that there really is a true element of luck as well in terms of winning that race," Westphal said of the crash.
Still, the team is pumped about how they did at this year's Nürburgring 24 Hours.

"For us, the pole was the big win," Westphal said. "It's unfortunate. We wanted to win the race. We had a car that could have won the race. Clearly, we were leading the whole first stint, and we had the pace to do it. It was just a bit of unfortunate circumstances that took us out of contention for that."
You know they're going to be back next year, looking to win it all. Westphal says that they're also planning to race at the first ever day-long race at the Circuit of the Americas later this year, run by Creventic's 24 Hours Series. Maybe then their luck won't run out.

Racing in events like the Nürburgring 24 Hours is truly a form of madness, where you can only prepare so much until doing all the right things ends with something out of your control. You know your day can end in heartbreak, but being able to say it didn't and you won anyway is what keeps you coming back.