"But he's like a six-time national karting champ!" said Robb Holland of our teammate Jordon Musser, whose lap times were a full twenty seconds under mine in the same car. "That's no excuse!" I said. I'll be honest: the other cars in our class were raining shame down on my times as much as the pros were, anyway.

Robb graciously invited me along to run his rebuilt Toyota 86 flood car at the World Racing League's Texas Fandango at MSR-Houston, which is one of the most fun cars I've ever driven. Having mostly done Lemons-style events in old beaters, this was so much faster than any car I've ever driven on that track that I kept laughing out loud whenever I figured out new places to carry more speed. More throttle in many places worked better than being delicate, as the car just planted down on its rear wheels and made it work.
This 86, with a handful of simple mods, made it brilliant and perfect in a way that I now know what my next car needs to be if I don't get a tow vehicle instead.

But because we were looking at lap times and all manner of other stats from the car, I now have sweet, sweet data outlining exactly how much I suck: lots. My best time was somewhere around 2:03; while Jordon's fastest lap of the race ended up being 1:50.245. It's all spelled out in times, throttle and brake inputs and video: I'm friggin' slow.
G/O Media may get a commission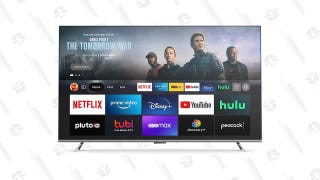 Save 46%
Fire TV 55" Omni Series 4K UHD Smart TV
Unlike a lot of reckless (and also slow) automotive writers, I don't consider myself that good a driver. I'm cautious. I probably shouldn't have jumped into crapcan racing before getting far more instruction, possibly in a faster, more reliable vehicle. Cars like my tired Porsche 944 have to be nursed along somewhat so they don't break.

The last full-on instructed track day I did was also at MSR-Houston, in January 2016. 2016! I got hurt right after that track day in a bad crash, but since then, I've been too distracted by weird Volkswagens I wanted to run and other assorted life stuff, I guess.
Yet I know I tend to go much faster on a track after someone is telling me to carry more speed and keep my foot down on track. It sticks, for a while, until I fall back into what's comfortable and slow. And holy balls, I am now slow.
Despite that, there were some cars I was able to have fun with on track. I spent a great deal of my time playing keep-away from one of the fastest cars I've run with in the 24 Hours of Lemons series, which was fun. I never seem to get a good look at the front of their car because they're always speeding past my 944. But here, in the 86, I was actually able to stay ahead of whoever was in their car for a good, long time. It ruled.

There were quite a few cars that run other series in WRL, as it's open to whatever race car you may have lying around. Even though it was my first time running with them, I saw a lot of familiar faces—albeit ones with a lot more experience (and speed) than I have. It was a fun time, with an exceedingly relaxed atmosphere where the focus is on wailing on cars for hours upon end.

Granted, I did what I was supposed to do and delivered the car back in one piece for the faster dudes to finish out the day. That's fine. That's what I do.
Yet there were spots on track Jordon and Robb mentioned as flat out in this car over dinner, though, and I kicked myself a bit for not just trying to leave my foot on the throttle there. Robb also mentioned that I should've been taking a few corners differently to focus on getting as much speed exiting a corner as possible, which I now need to try.

Part of me wishes I could've done another day in the car, but our lead mechanic for the car left for the hospital after toughing it out all day with appendicitis, and we figured it'd be best to stop after the first day's race accordingly. We finished fifth in the GP2 class, which wasn't a bad result for a freshly built race car that had been partially submerged in water at some point in its life.

Admittedly, it may be slightly unfair to compare myself to two teammates who'd spent time racing at the pro level. Fine, whatever, sure, I guess. But there's no way I should be this far off their pace. Either way, I'm not going to just accept that I'm slow—I need to go back out and drive more.