A 12V Cummins diesel is an amazingly mechanical motor, and all it takes to get big power and bigger torque is some hardware changes. This video walks you through the simple (and not so simple) steps of the process.
This is Formula Drift veteran and Mopar-Or-No-Car dude Tony Angelo on his show Hot Rod Garage. The other week he took a 5.9 liter, inline six turbodiesel out of a '90s Ram and stuffed it into a '70s Dodge D200.
It turned out to be a functional swap, but it took some fab work and a lot of muscle to make it happen.
This week he and his buddy (who stuck an old Ford F250 body on a newer Ram frame with Angelo earlier this year) got the diesel buttoned up and did a few tweaks to make it spring from 160 horsepower and 400 lb-ft of torque to 300/800.
As it turns out it, doesn't take too much with such a non-digital engine.
They cut and fixed in a new exhaust.

They put in new big injectors.
They put in a new fuel plate. it's a little piece of metal that regulates how much fuel goes to the engine as the engine's RPM increases.

They worked in a new turbo with an exhaust housing from a Buick Grand National. It fits right with the Garrett GTX3582 and it's got an internal wastegate. Here's Tony hitting the tired, 180,000-mile turbo for some reason.
G/O Media may get a commission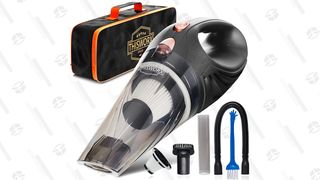 Save 50%
ThisWorx Car Vacuum Cleaner
After some fine tuning, that's all enough to get the truck running at something close to double the stock power output.
It sounds simple, but there's lots of welding, tinkering, and puzzling that goes into the whole build. Watch the above video and you'll get a sense of what it really takes.
---
Contact the author at raphael@jalopnik.com.