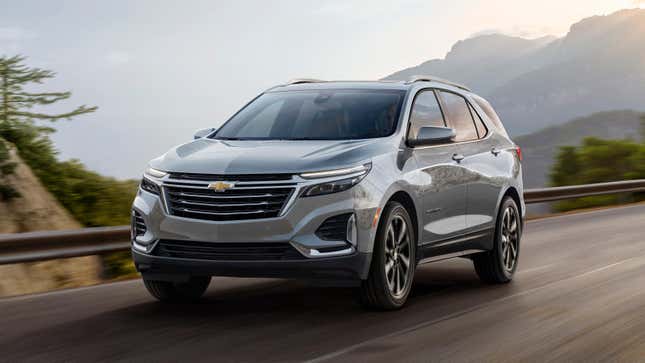 Did you know that the Hyundai Ioniq 5 is a very good electric vehicle? And did you know that the Chevrolet Corvette Z06 is a very good performance vehicle? Of course, you do. Because they both keep winning end-of-the-year awards.
These days, it's not just buff books such as MotorTrend and Car and Driver that do awards. It seems like everyone's gotten in on the trend. Even as a Jalopnik employee, I'm a little surprised we still don't have a big award that we give out. Surely all the automakers would feel lucky to even be considered for "Best Turn Signal Lever of 2022," if that award actually existed.
But while it's fun to argue over what car is the best this and the most high-performance that, all that positivity can get tiring after a while. Although, if we're being honest, a lot of the debate over which car actually deserves any particular award usually involves those who disagree invoking a whole lot of negativity. And we're certainly surrounded by more than enough negativity on a day-to-day basis whether we're talking about cars or anything else.
What about the most average car though? What's a car that's good enough all around that you can't really complain about much, if anything, but doesn't exactly stand out in any particular way? We're not looking for bad cars here or cars you just don't like. Just the middle-of-the-road average.
These days, compact crossovers are more or less the default choice for someone who "just wants a new car." So, to me, the answer is probably the Chevrolet Equinox. I know I've driven it, and I know I don't remember having any specific complaints. But at the same time, I don't remember anything really standing out about it.
Consumer Reports says the reliability is about average. The design is attractive enough but isn't particularly memorable. Maybe I'm wrong, but I'm pretty sure the Chevrolet Equinox is the most average new car you can buy today.
What model comes to mind (or doesn't until you search it on Google for a good 15 minutes), when it comes to the most all-around average car out there? Let us know in the comments.