Good Morning! Welcome to The Morning Shift, your roundup of the auto news you crave, all in one place every weekday morning. Here are the important stories you need to know.
1st Gear: Buyers May Not Be Ready To Give Up Their Steering Wheels
Sure, some people may say that dialing their destination into their cars and then going to sleep/screwing around on Facebook/cracking open a 12-pack of Lone Star is something they want. But when it comes to putting their money where their mouths are, will buyers really invest in fully autonomous cars?
A story in Bloomberg adamantly argues that the people do not want self-driving cars, and many of them do not even want an autonomous mode, like Tesla's Autopilot:
Recent surveys by J.D. Power, consulting company EY, the Texas A&M Transportation Institute, Canadian Automobile Association, researcher Kelley Blue Book and auto supplier Robert Bosch LLC all show that half to three-quarters of respondents don't want anything to do with these models.
"Technologically, we will be ready for automated driving within this decade," said Kay Stepper, a vice president and head of the automated driving unit at Bosch, which supplies components to the world's leading manufacturers. "But it will take well into the next decade to convince consumers."

Automakers and tech giants including Google have high hopes for a rapid rollout of autonomous vehicles, which they say will radically reduce traffic deaths and cure congestion in big cities. Google, which announced plans on Tuesday to expand its test fleet with 100 Chrysler Pacifica minivans, predicts people will be tooling around in robot models by 2020. Boston Consulting Group says the market for autonomous technology will grow to $42 billion by 2025, and self-driving cars may account for a quarter of global sales by 2035.

All of this depends on people buying something they don't currently want.

In the Kelley Blue Book study, 75 percent of the 2,076 people surveyed said they don't think they'll ever own a self-driving car. In the EY study, just 40 percent could imagine engaging the autopilot, a feature already available on Tesla's SUV and sedan and coming soon on models from Audi, Volvo, Mercedes and Cadillac.
G/O Media may get a commission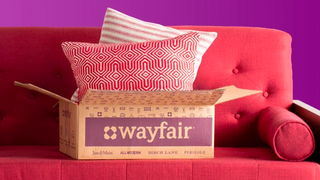 Big deals
Wayfair Surplus Sale
People have concerns that they're putting their full faith (and safety) into a technology that could fail at any time. What happens if it does?
2nd Gear: FordPass
Meanwhile, the tech proliferation in the auto industry is happening in other ways. Automotive News reports Ford is investing $182 million into the software company behind its FordPass app, which lets people reserve parking, pay for cars and do a bunch of other things, even if they are not Ford owners:
Ford joins Microsoft, General Electric and other major investors in Pivotal Software Inc., a 3-year-old company with more than 2,000 employees. Ford's commitment, the largest in a round of investments totaling $253 million announced by Pivotal today, is part of CEO Mark Fields' effort to expand the automaker into mobility services such as car-sharing.

Fields, in a statement, said the investment will help Ford "deliver these customer experiences at the speed of Silicon Valley."

Ford said it will use technology from Pivotal throughout its business, including product development, research and advanced engineering, as well as its new Ford Smart Mobility subsidiary. The companies said they plan to open software labs in the U.S. and Europe staffed with software architects, engineers and user-experience experts.
3rd Gear: Bigger Takata Recall
The potentially lethal explosive Takata airbag recall grows, again. How many cars are left at this point? I think this covers all of them. Via Reuters:
The U.S. Transportation Department and Takata Corp (7312.T) confirmed on Wednesday that automakers will recall another 35 million to 40 million U.S. air bag inflators assembled by the Japanese manufacturer by 2019.

The confirmation follows a report by Reuters Tuesday about the expansion of the largest-ever U.S. auto safety recall. Previously, 14 automakers had recalled 24 million vehicles with 28.8 million inflators linked to at least 11 deaths and more than 100 injuries.

National Highway Traffic Safety Administration (NHTSA) officials said Tesla Motors Inc (TSLA.O), Fisker Automotive and Jaguar Land Rover will recall Takata air bag inflators, bringing the automakers involved to 17, including Honda Motor Co (7267.T), Ford Motor Co (F.N) and Fiat Chrysler Automobiles NV (FCHA.MI).
Oof.
4th Gear: Are Minivans The Next Big Thing In China?
Between autonomous cars (if people buy them) and recent trends in China, the minivan could be set for a big comeback. Here's Reuters once again:
Shifts towards electric cars in many cities, potential breakthroughs in autonomous, self-driving technology and lifestyle changes with the relaxation of China's one-child policy pose challenges for product planners in the world's largest autos market.

In the near-term, some predict car buyers will want roomier, more comfortable interior space. Further ahead, others see self-driving cars and electric propulsion leading to radically new body styles with even more space and comfort in cars.

Chinese tend to live near their parents, and the changes to the one-child policy are expected to make family units larger, Hiroji Onishi, head of Toyota Motor's (7203.T) China operations, said on the sidelines of the Beijing auto show, which ended on Wednesday.

"We think MPVs have good prospects in China. Given those changing life-stage needs, we think what's going to be popular are smaller, more affordable MPVs like the (Toyota) Noah Voxy, a compact minivan which we market in Japan," he said.
5th Gear: Is Tesla Nuts?
Bloomberg puts into perspective just how ambitious Tesla Motors' production timeline is, the largest in scope since the Ford Model T:
The company now plans to produce 500,000 electric cars every year starting in 2018. That's 10 times the number of vehicles it produced in 2015, and enough to ensure that all 400,000 customers who put down a $1,000 deposit on the forthcoming Model 3 will qualify for a significant U.S. subsidy.

Talk about doubling down—even the original 2020 goal was considered a long shot by Wall Street. This new target would pledge the carmaker to a faster production growth rate than Ford Motor Co. managed in the early 1900s. That's when Henry Ford pioneered the production line with the Model T, the first mass-market combustion-driven car.

A century later, Tesla Chief Executive Officer Elon Musk wants the Model 3 to be its electric grandchild. He's now aiming for close to a million sales by 2020.

"My desk is at the end of the production line," Musk said in an earnings conference call on Wednesday. "The whole team is super-focused."
We'll see.
Reverse: RIP
Neutral: Will People Really Buy Autonomous Cars?
I think that will happen on some level eventually, especially since it's what regulators want—zero fatalities and all that. But the technology will be ready long before humans are.