We love the 445 lb-ft diesel Mazda6 that we spotted today at the LA Auto Show, but what if it's all a ruse?
Mikeado wondered how a behind-the-scenes plot at Mazda might have looked, leading to this car, a conceivably fake non-diesel-engined show car.
"These American guys are obsessed with diesel engines in affordable cars, should we bring them over?"

"Pfft, only like 5 of them would actually go to a dealer and buy one. There's no point."

"No seriously, there may be more than just these Jalopnik guys. Maybe we should offer a diesel to them."

"Why do you think that hardly anyone does a diesel in the US? Because it's not worth it."

"Well...... what if we just said we were offering a diesel to the US? There's a motor show there soon, we can just slap some badges and stuff on one and pretend we are. It'll satisfy them and save us the money of actually bothering."

"That's brilliant! We'll take a diesel 6 over to the LA show and get 'em all excited about the 6. Hopefully they won't find out. We might as well exaggerate the torque output while we're at it, to rope a few more of them into considering a 6."

"As long as it doesn't tempt other people into trying to buy one. That's a lot of torque."

"Enough! Talk is cheap! Let's get the ball rolling already. Time for action!"

"No no, I said torq— "

"ACTION!"

"Oh dear..."
This is just an imagined scenario, but we hope that sweet little diesel fairies are indeed flying around the Mazda6 production line as we speak.
G/O Media may get a commission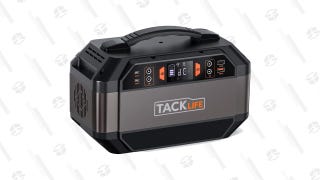 Tacklife Portable Solar Generator
Photo Credit: Warner Bros.