The 2016 Ford Focus RS, will all of its 345 horses, isn't even on sale yet, but already there's random and interestingly-sourced speculation that the big blue oval might make an even hotter one. Will they? Who knows. Would it be awesome? No! It'd be bad! Awful! A monstrosity!
Just kidding, everyone, settle down, settle down. It'd be pretty great.
But from whence does this speculation come? From the United Kingdom's Autocar, of course:
Ford Performance is watching reaction to the new Focus RS closely before signing off an even quicker limited-run special.

Ford insiders have confirmed that an even more hardcore version of the 345bhp five-door is under consideration - and it has the potential to be the fastest-accelerating hatchback in history.

Autocar goes on to say that extra speed would come from both more power and reduced weight, which is normally where most things get extra speed from.
The Focus RS is already one expensive hatch, but making an even more powerful one would be one pricey Ford hatchback. But since Autocar's "insiders" say the benchmarks to beat would be the Mercedes CLA45 AMG and the Audi RS3, maybe that wouldn't be such a problem.
G/O Media may get a commission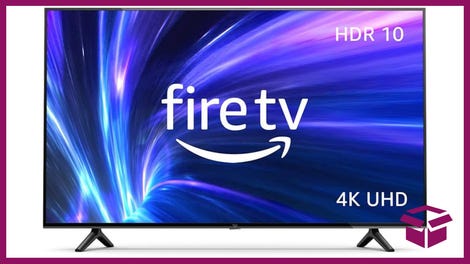 42% Off
Amazon Fire TV 50" 4K Smart TV
Or maybe it would, considering how much people would be willing to pay for a Mercedes or an Audi, over, say, a Ford.
But since we're engaging in wild, baseless speculation today at los Jalops, let's just say it'll cost $65,000, and that very few people will ever buy one.
And that's just fine, I suppose, for an imaginary car that no one is buying already since it doesn't exist yet. But it'd be pretty grand if it did.
For what it's worth, we reached out to a Ford spokesman to see if we could get anything, and he said this was the first he'd ever heard of such a project.
But then again, I suppose the PR person might be the last to know about a secret, need-to-know Ford Focus RS-R, which is what I'm calling it now?
Anyways, doesn't really matter. If it's real, it's still probably another couple of years off. And if it isn't, well, then I'm just wrong.
---
Contact the author at ballaban@jalopnik.com.
Public PGP key
PGP fingerprint: 0D03 F37B 4C96 021E 4292 7B12 E080 0D0B 5968 F14E