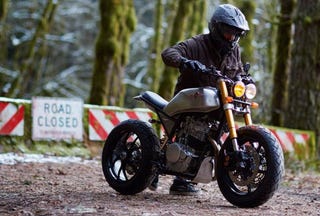 In a follow-up to the recent question "What do you ride and why?" we figured we'd open up the floor to those of you that haven't made the leap. If you're anything like I was, there are a few bikes that speak to you, make you stop in your tracks, and think, "Now that's what I want." Tell us what they are.

I was never a fan of fully-faired superbikes or chrome-laden cruisers. My eye always gravitating towards stripped-down nakeds and streetfighters – high bars, exposed frames, maybe a touch of abuse, and function over form. I don't like delicate.

Recently, that's shifted to dual-sports and sport tourers. Something designed to eat up miles. I'm partial to twins, so KTMs are a current obsessions, and my inner demons are demanding I look at the Ducati Multistrada and Aprilia Caponord. I'm keeping them at bay.

Maybe just a de-faired and road-trip ready Goldwing is in my future. This one keeps serving as inspiration.

What's yours?