Last year I watched F1 cars zip around COTA and sports cars take their last laps in the sunsetting ALMS series at VIR. So it's with authority I say nothing was more fun than watching NASCAR trucks on TV trying to drive around a dirt track in middle-of-nowhere Ohio. This year I had to see it in person. That's right, Jalopnik is going to the Mudsummer Classic.
As of last year, NASCAR hadn't raced on dirt in nearly half a century. They'd moved on to concrete superspeedways where they could pack the fans in and appeal to an increasingly suburban population who didn't want to think of NASCAR as a moonshining, dirt-tracking sport for those endowed by history or circumstance with a scarlet shade of neck.
It seemed to work, at least for a while, but NASCAR and dirt belong together like tequila and bad decision-making.
Enter Tony Stewart. Smoke. Our savior. He owns that little half-mile ribbon of clay and dirt known as The Big E and convinced NASCAR to let the trucks race there in a real championship points race — the only way to attract the kinds of drivers and TV attention you need to make something a national event.
G/O Media may get a commission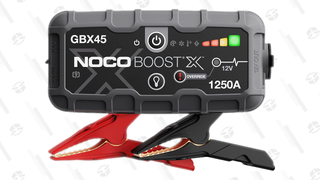 13% Off
Noco Boost X GBX75 Jump Starter
I'm not sure how he did it, but I'd like to think he won a best-of-three armwrestling contest with a giant Norwegian bodyguard named "Sven" employed by the France family.
Whatever the reason, last year's race was truly the most fun I had sitting on a couch watching racing. Better than Le Mans, better than the X-Games, better than just about anything. Why? Here are a few reasons:
The Trucks Are Not Designed To Be Raced On Dirt
Despite being "trucks" there's almost nothing about a NASCAR truck, except for the bed, to make it any more like a real truck than a regular NASCAR stock car (although, you could argue that a NASCAR stock car is built more like a truck than a modern car). Power output is like 700 horsepower with more than 500 lb-ft of torque from a pushrod V8 as loud as Gabriel's horn.
While there are vehicles that regularly race on dirt with that much power — three are sprint cars that put out in excess of 1,000 hp — those vehicles have a lot of suspension and aero to keep them pinned to the ground. NASCAR Trucks lack that, thus you get these amazing lines and "slide jobs" around the track to pass. It's as much speed-skating as it is racing.
The Format Is The Best In NASCAR
The Mudsummer Classic is run more like a BTCC race than a Sprint Cup event, with teams having to compete in all of these qualifying races to make the cut of the top 30 cars (last year it was eight laps and this year the heats will be 10 laps). And then there's a "last chance race" to get into the final.
As you can see above, it gets pretty heated. I'd argue the qualifying for this race is more exciting than your average race at Kansas or Fontana.
The race itself is run in three heats (60, 50, and 40 laps) to make the 150-lap total. This allows for the field to get close without having to throw out random debris cautions.
Few Drivers Know What The Hell They're Doing
Austin Dillon put on a wonderful show last year, proving that you can come from a more traditional racing background and still compete on dirt, but most of the drivers were struggling with something new for this race.
If you look at the drivers who compete it's a great mix of seasoned pros who may or may not have experience racing on dirt going up against "dirt track ringers" who know how to mix it up on clay but don't have the pedigree of some of the other guys. Last year this made for a showdown between Kyle Larson and Austin Dillon that was fun for the entire day.
We're Going To Be There
The nice folks at Airstream are giving Raphael and I one of their luxuriously appointed Airstream Interstates to set up right next to the track. We'll be hanging out with NASCAR fans, drivers, and regulars. If you're going to the race come find the RV with the Jalopnik stickers that smells like cheap beer and hamburgers.
Anyone going? Anyone go last year and have some advice? Let us know below.
And if you can't go you can watch it on Fox Sports 1 basically the entire day, with qualifying starting at 5 pm and the race starting at 9 pm (EST) on Wednesday. It's a Wednesday, what else are you doing?