We're taking your advice from last week and including a broader range of races for your reading pleasure. Although the pickins are kind of slim; the season is winding down, and there aren't any F1, Champ Car, or ALMS races this weekend. But here are some of the things we do have to look forward to:
Sports Car Club of America (SCCA)
What: 2007 National Championship Runoffs
Where: Heartland Park, Topeka, KS
When: Qualifying Oct. 8-11; race Oct. 12-14
http://www.scca.org
Nearly 700 drivers compete every year for National Championship medals in 25 different classes at the Pinnacle of American Motorsports. Pole positions were finalized on Thursday after three days of qualifying, with new pole sitters in nearly half of the categories. Some of the drivers who scored their maiden pole position include Jason Von Kluge in a Ford Mustang in the A sedan class, Andrew Aquilante in a Chevrolet Corvette in the Touring 1 class, Wayland Joe in a Porsche GT-3 in the GT-2 class, and John Black in a Nissan 350Z in the GT-3 class.
World Rally Championship (WRC)
What: Rallye de France - Tour de Corse
Where: Ajaccio, Corsica
October 12-14, 2007
http://www.rallyedefrance.com
Nicknamed "the rally of 10,000 corners," this course through the mountains on the French Mediterranean island of Corsica has been widened this year for improved safety and speed. But the road is still plenty rocky and dirty, which makes for very little grip. Only four non-French drivers have won this race over a span of 20 years. Tough price to pay for hanging out on a beautiful island in the middle of azure blue waters. We're so jealous.
NASCAR Nextel Cup
What: Bank of America 500
Where: Lowe's Motor Speedway, Concord, NC
When: Oct. 13
http://www.nascar.com/series/cup
G/O Media may get a commission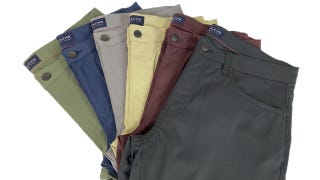 JACHS NY Fall Stretch Tech Pants
A rare Saturday night race awaits NASCAR fans at the Lowe's Motor Speedway. And thankfully, LMS has a specially designated "non-alcohol family section" so fans can bring the kids without worrying about being hit in the head by flying beer cans. Ryan Newman took pole position during qualifying on Thursday with a top speed of 189.394 miles per hour. Jimmie Johnson, who was previously leading the series but dropped to second after Jeff Gordon's win last week, will fill out the front row.
NASCAR Busch Series
What: Dollar General 300
Where: Lowe's Motor Speedway, Concord, NC
When: Oct. 12
http://www.nascar.com/series/bg
More than 20 NEXTEL Cup drivers will drive in this series, although some of us still can't quite grasp the rationale behind the same drivers participating in two series.
NHRA
What: NHRA California Hot Rod Reunion
Where: Auto Club Famoso Raceway, Bakersfield, CA
When: Oct. 12-14
http://museum.nhra.com/chrr.asp?Year=2007
This massive gathering of NHRA members and fans will feature exhibition runs and elimination rounds in eleven categories including Nostalgia Top Fuel, Nostalgia Funny Car, and NE1. Exhibition cars must be in a style that is at least 30 years old; newer cars such as Super Gas with old-style bodies ("T", Bantam, Willys, etc.) are, according to the NHRA, "not considered to be in the spirit of the reunion." We'll be at the event to bring you the latest updates.