Welcome to the Jalopnik Weekend Motorsports Roundup, where we let you know what's going on in the world of racing, where you can see it, and where you can talk about it all in one convenient place. Where else would you want to spend your weekend?

Sure, college football is back, but there's a ton of live racing on this weekend. The footballs can wait. The FIA World Endurance Championship is in Mexico City on Saturday for starters, but they're kicked all the way back to Fox Sports 2 for the weekend coverage.
If endurance racing isn't your thing, the FIA World Rallycross Championship is on this weekend as well. The coverage will be streamed live on beIN, alongside the MotoGP World Championship's event at Silverstone Circuit.
All of NASCAR's top divisions will compete this weekend as well, and it's time for the Southern 500 throwback event—in other words, everyone dresses in wacky outfits and the cars have old-school paint schemes. The only series not at Darlington Raceway for throwback weekend is the Camping World Truck Series, and they'll be in Canada for a road-course race.
If you want to watch some open-wheel racing, Formula One and the Verizon IndyCar Series will be on as well. F1 is in Italy and IndyCar is at Watkins Glen International in New York, which has a new track surface since the last time they stopped by. The drivers are shattering track records like crazy over there, so it'll likely be a race race weekend.
G/O Media may get a commission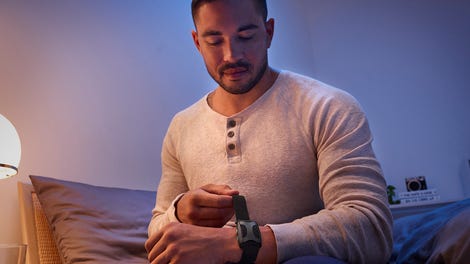 And if you just really want to avoid the ball sports, there are plenty of tape-delayed race showings on as well. If we missed any coverage or streams for the weekend, please do share them in the comments below.
All times ET.
Saturday
---
Formula One: Italian Grand Prix at Autodromo Nazionale Monza in Milan, Italy
6:30 a.m. — Practice (delayed) on NBC Sports Network
8 a.m. — Qualifying on NBC Sports Network
---
MotoGP World Championship: Octo British Grand Prix at Silverstone Circuit in the United Kingdom
7:35 a.m. — Moto3 qualifying on beIN
9:10 a.m. — MotoGP qualifying on beIN
10:05 — Moto2 qualifying on beIN
---
Red Bul Air Race: Las Vegas Motor Speedway in Las Vegas, Nevada
8 a.m. — Coverage (delayed) on Fox Sports 2
---
Red Bull X Fighters: Madrid, Spain
10 a.m. — Coverage (delayed) on Fox Sports 2
---
Lucas Oil American Sprint Car Series: Lucas Oil Speedway in Wheatland, Missouri
10 a.m. — Race (delayed) on MAVTV
7 p.m. — Race (delayed) on MAVTV
---
NASCAR Sprint Cup Series: Southern 500 at Darlington Raceway in Darlington, South Carolina
11 a.m. — Practice on CNBC
11:30 a.m. — Practice on NBC Sports Network
1:30 p.m. — Final practice on NBC Sports Network
11 p.m. — Final practice on NBC Sports Network
---
Lucas Oil Pro Motocross Championship: Hangtown Motocross Classic in Sacramento, California
1 p.m. — Coverage (delayed) on MAVTV
3 p.m. — Coverage (delayed) on MAVTV
---
FIA World Endurance Championship: 6 Hours of Mexico at Autódromo Hermanos Rodríguez in Mexico City, Mexico
2:30 p.m. — Race on Fox Sports 2
7 p.m. — Race on Fox Sports 2
---
NASCAR Xfinity Series: VFW Sport Clips Help a Hero 200 at Darlington Raceway in Darlington, South Carolina
3 p.m. — Countdown to the Green on NBC
3:30 p.m. — Race on NBC
---
NASCAR Camping World Truck Series: Canadian Tire Motorsport Park in Bowmanville, Ontario, Canada
5:30 p.m. — Qualifying on Fox Sports 2
---
Verizon IndyCar Series: Grand Prix at The Glen at Watkins Glen International in Watkins Glen, New York
6 p.m. — Qualifying (delayed) on NBC Sports Network
---
Lucas Oil Late Model Dirt Series: Diamond Nationals at Lucas Oil Speedway in Wheatland, Missouri
6 p.m. — Coverage (delayed) on MAVTV
---
Sunday
---
FIA World Rally Championship: ADAC Rallye Deutschland
1 a.m. — Coverage (delayed) on MAVTV
---
Formula One: Italian Grand Prix at Autodromo Nazionale Monza in Milan, Italy
1:30 a.m. — Qualifying (delayed) on NBC Sports Network
7 a.m. — Pre-race show on NBC Sports Network
7:30 a.m. — Race on NBC Sports Network
10 a.m. — F1 Extra on NBC Sports Network
---
Lucas Oil American Sprint Car Series: Lucas Oil Speedway in Wheatland, Missouri
2 a.m. — Race (delayed) on MAVTV
---
Lucas Oil Late Model Dirt Series: Diamond Nationals at Lucas Oil Speedway in Wheatland, Missouri
4 a.m. — Coverage (delayed) on MAVTV
---
GP2 Series: Autodromo Nazionale Monza in Milan, Italy
6 a.m. — Coverage (delayed) on NBC Sports Network
---
Blancpain GT Series Sprint Cup: Budapest, Hungary
6 a.m. — Coverage (delayed) CBS Sports Network
---
Red Bull Air Race: Ascot, England
6 a.m. — Coverage (delayed) on Fox Sports 1
---
MotoGP World Championship: Octo British Grand Prix at Silverstone Circuit in the United Kingdom
7:30 a.m. — Moto3 race coverage on beIN
9 a.m. — Moto2 race coverage on beIN
10:30 a.m. — MotoGP race coverage on beIN
---
FIA World Rallycross Championship: Bretagne World RX of France at Circuit de Lohéac
7:45 a.m. — Coverage on beIN
11:30 a.m. — Coverage (delayed) on beIN
---
Formula DRIFT: Montreal, Québec, Canada
8 a.m. — Coverage (delayed) CBS Sports Network
---
NASCAR Camping World Truck Series: Canadian Tire Motorsport Park in Bowmanville, Ontario, Canada
9 a.m. — Qualifying (delayed) on Fox Sports 1
2 p.m. — NCWTS Setup on Fox Sports 1
2:30 p.m. — Race on Fox Sports 1
---
IMSA Continental Tire SportsCar Challenge: Oak Tree Grand Prix at Virginia International Raceway in Alton, Virginia
10:30 a.m. — Race (delayed) on Fox Sports 1
---
NHRA: U.S. Nationals at Lucas Oil Raceway in Indianapolis, Indiana
12 p.m. — Qualifying (delayed) on Fox Sports 1
5 p.m. — Qualifying (delayed) on Fox Sports 1
8:30 p.m. — Qualifying (delayed) on Fox Sports 2
---
Indy Lights: Grand Prix at The Glen at Watkins Glen International in Watkins Glen, New York
1 p.m. — Coverage (delayed) on NBC Sports Network
---
Verizon IndyCar Series: Grand Prix at The Glen at Watkins Glen International in Watkins Glen, New York
2 p.m. — Pre-race show on NBC Sports Network
2:30 p.m. — Race on NBC Sports Network
4:30 p.m. — Post-race show on NBC Sports Network
---
Lucas Oil Off-Road Racing Series: No race information listed
2 p.m. — MAVTV
5 p.m. — MAVTV
---
FIM Motocross: Monster Energy MXGP of Americas at Charlotte Motor Speedway in Charlotte, North Carolina
4 p.m. — MX2 coverage (delayed) CBS Sports Network
5 p.m. — MXGP coverage (delayed) CBS Sports Network
---
NASCAR Sprint Cup Series: Southern 500 at Darlington Raceway in Darlington, South Carolina
5 p.m. — NASCAR America on NBC Sports Network
5:30 p.m. — Countdown to the Green on NBC Sports Network
6 p.m. — Countdown to the Green on NBC
6:30 p.m. — Race on NBC
11 p.m. — Post-race show on NBC Sports Network
---
Lamborghini Super Trofeo North America: Road America in Elkhart Lake, Wisconsin
6 p.m. — Coverage (delayed) CBS Sports Network
---
Red Bull X Fighters: Madrid, Spain
6:30 p.m. — Coverage (delayed) on Fox Sports 2
10:30 p.m. — Coverage (delayed) on Fox Sports 2
---
Lucas Oil Off-Road Racing Series: Round 9 at Glen Helen Raceway in San Bernardino, California
7 p.m. — Pro 4 and Pro Buggy races (delayed) on CBS Sports Network
---