Welcome to the Jalopnik Weekend Motorsports Roundup, where we let you know what's going on in the world of racing, where you can see it, and where you can talk about it all in one convenient place. Where else would you want to spend your weekend?
Racing, for all of its foibles, is one of the insaner sports. Drivers routinely risk life and limb in the ways that other professional athletes do not. Yes, football is full of concussions, and yes, hockey players get slashed every now and then, but only in racing is the risk of death not some far-off specter in the back of one's mind. But racing is pretty crazy for another reason.
Only in racing can an athlete win the championship before it's even over. Think about how crazy that is. What if the NHL handed the Stanley Cup over to the New York Islanders (because they are the greatest team of all time ever and forever) before anyone hit the playoffs?
That's what we've got now in Formula One. A nice young German man named Sebastian Vettel has already wrapped up the title, and there are still races on the calendar. The race I'm thinking of specifically is this week's stop in Abu Dhabi. So what now?
G/O Media may get a commission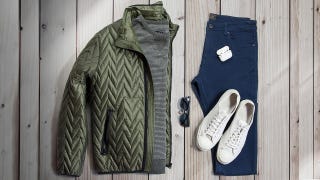 60% off
Jachs NY Fall Sale 60% Off
Well, there are still plenty of drivers on the grid. And while second place is first of all the losers, all those other guys still want jobs next year. And when you're competing for a job in one of the most competitive fields on earth, you can bet your bottom dollar that they'll still be racing.
The other big news for this weekend is the NASCAR Sprint Cup debut of rally car designer, racer, and, most important of all, Jalopnik Contributor Parker Kligerman. Parker's already proven he's got the chops teaching us how to go fast, and with the wings of angels behind him (read: los Jalops) there's no way he can't take the checkered flag and all the glory. We're rooting for you, Parker.
We know there's been a few site changes recently, so in the interests of comfort and familiarity we'll be keeping the races in the body of the posts. Of course, please use our image annotation tool on the map above to show us races we might have missed, where they're being held, and where we can livestream them.
Formula One Abu Dhabi Grand Prix Qualifying
Yas Marina Circuit
Yas Island, Abu Dhabi
9 AM Saturday on CNBC (repeat at 1:30 PM Saturday on NBCSN)
NASCAR Sprint Cup AAA Texas 500 Practice
Texas Motor Speedway
Forth Worth, Texas
11 AM Saturday on FS2
NASCAR Nationwide Series O'Reilly Auto Parts 300 Qualifying
Texas Motor Speedway
Forth Worth, Texas
12 PM Saturday on FS1
Lucas Oil Pro Pulling League
Lucas Oil Speedway
Wheatland, Missouri
2 PM Saturday on CBS
NASCAR Sprint Cup AAA Texas 500 Final Practice
Texas Motor Speedway
Forth Worth, Texas
2 PM Saturday on FS1
NASCAR Nationwide Series O'Reilly Auto Parts 300
Texas Motor Speedway
Forth Worth, Texas
3:30 PM Saturday on ESPN2
Lucas Oil Drag Boats World Finals
Chandler, Arizona
6 PM Saturday on FS2
Formula One Abu Dhabi Grand Prix
Yas Marina Circuit
Yas Island, Abu Dhabi
7:30 AM Sunday on NBCSN (repeat at 6 PM Sunday on NBCSN)
NASCAR Sprint Cup AAA Texas 500
Texas Motor Speedway
Forth Worth, Texas
2 PM Sunday on ESPN