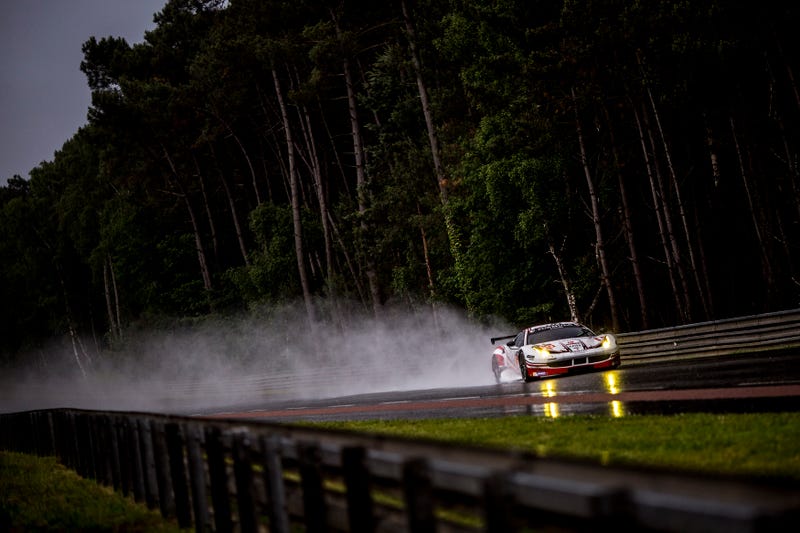 Welcome to the Jalopnik Weekend Motorsports Roundup, where we let you know what's going on in the world of racing, where you can see it, and where you can talk about it all in one convenient place. Where else would you want to spend your weekend?

It's 24 Hours of Le Mans weekend, and the Jalopnik crew will soon embark on a journey of staying up for the entire race at the LeManstravaganza. If staying up all night is also in the cards for you, here's a handy guide to all of the things you need to know before watching the race. The Ford GT—also known as America's pride and joy—is on pole for the race, and a quadruple amputee will compete in the event as well.
In addition to the television coverage, there will be a YouTube live stream of Le Mans. All four Ford GTs will have on-board cameras, there will be both live race timing and audio, and there's also a garage camera. The stream is here, and the streaming start time is listed below.
Formula One will run the ever-controversial European Grand Prix in Azerbaijan on Sunday, shortly after F1 head honcho Bernie Ecclestone called the continent of North America a "shit hole." (Let's be honest, are we really surprised?)
The NASCAR Sprint Cup Series is off this weekend, but both the Camping World Truck Series and Xfinity Series will be at Iowa Speedway. The crowds and the racing are usually fantastic in Iowa—mainly because a lot of those Sprint Cup guys actually take the weekend off in the support series—and that should make for a good couple of races.
On two wheels, the Lucas Oil Pro Motocross Championship and FIM Superbike World Championship will compete as well. The programming schedule listed for the Superbike World Championship below is via the beIN website.
If you know of any other events or live streams going on this weekend, feel free to let us know in the comments below.

All times EST.
Saturday
---
FIM Superbike World Championship: Pirelli Riviera di Rimini Round
5:45 a.m. — Superbike race on beIN
6 a.m. — Coverage on beIN
7 a.m. — Superstock 1000 qualifying on beIN
2 p.m. — Coverage on beIN
8 p.m. — Coverage on beIN
10 p.m. — Coverage on beIN
---
British Touring Car Championship: Oulton Park in Little Budworth, Cheshire, England
6 a.m. — Race (delayed) on CBS Sports Network
---
FIA World Endurance Championship: 24 Hours of Le Mans
8 a.m. — Coverage via YouTube live stream
8:30 a.m. — Coverage on Fox Sports 1 (moved to Fox Sports 2)
8:30 a.m. — Coverage on Fox Sports GO
2 p.m. — Coverage on Fox Sports 2
6 p.m. — Coverage on Fox Sports 2
7 p.m. — Coverage on Fox Sports 2
10:30 p.m. — Coverage on Fox Sports 2
---
Formula One: European Grand Prix at Baku City Circuit in Baku, Azerbaijan

9 a.m. — Qualifying on NBC Sports Network
---
Lucas Oil American Sprint Car Series: 44th Annual Jim Raper Memorial Dirt Cup at Skagit Speedway in Alger, Washington

10 a.m. — Race (delayed) on MAVTV
7 p.m. — Race (delayed) on MAVTV
10 p.m. — Race (delayed) on MAVTV
---
Formula DRIFT: Road Atlanta in Braselton, Georgia
11 a.m. — Coverage (delayed) on CBS Sports Network
---
Lucas Oil Pro Motocross Championship: High Point National in Mt. Morris, Pennsylvania
1 p.m. — Coverage (delayed) on MAVTV
4 p.m. — Coverage on NBC Sports Network
4 p.m. — Coverage (delayed) on MAVTV
---
NHRA: NHRA Thunder Valley Nationals at Bristol Dragway in Bristol, Tennessee
2 p.m. — Qualifying on Fox Sports 1
---
NASCAR Camping World Truck Series: Speediatrics 200 at Iowa Speedway in Newton, Iowa
4:30 p.m. — Qualifying on Fox Sports 2
8 p.m. — NCWTS Setup on Fox Sports 1
8:30 p.m. — Race on Fox Sports 1
---
NASCAR Xfinity Series: American Ethanol E15 250 at Iowa Speedway in Newton, Iowa
6:30 p.m. — Qualifying on Fox Sports 2
7 p.m. — Qualifying on Fox Sports 1
---
Sunday
---
FIA World Rally Championship: Rally Sweden
1 a.m. — Coverage (delayed) on MAVTV
---
Lucas Oil American Sprint Car Series: 44th Annual Jim Raper Memorial Dirt Cup at Skagit Speedway in Alger, Washington

2 a.m. — Race (delayed) on MAVTV
---
FIA World Endurance Championship: 24 Hours of Le Mans
2:30 a.m. — Coverage on Fox Sports 1
---
Lucas Oil Late Model Dirt Series: Georgia Boot Super Bowl of Racing at Golden Isles Speedway in Brunswick, Georgia
4 a.m. — Race (delayed) on MAVTV
---
FIM Superbike World Championship: Pirelli Riviera di Rimini Round
6 a.m. — Coverage on beIN
7 a.m. — Coverage on beIN
12 p.m. — Coverage on beIN
1 p.m. — Coverage on beIN
2 p.m. — Coverage on beIN
7 p.m. — Coverage on beIN
8 p.m. — Coverage on beIN
9 p.m. — Coverage on beIN
---
Formula One: European Grand Prix at Baku City Circuit in Baku, Azerbaijan

6:30 a.m. — Qualifying on NBC Sports Network
8 a.m. — Pre-race show on NBC Sports Network
8:30 a.m. — Race on NBC Sports Network
11 a.m. — F1 Extra on NBC Sports Network
6 p.m. — Race (delayed) on NBC Sports Network
---
NHRA: NHRA Thunder Valley Nationals at Bristol Dragway in Bristol, Tennessee
9:30 a.m. — Qualifying (delayed) on Fox Sports 2
4 p.m. — Coverage (delayed) on Fox Sports 1
10 p.m. — Coverage (delayed) on Fox Sports 2
---
NHRA: Summit Racing Equipment NHRA Southern Nationals at Atlanta Dragway in Atlanta, Georgia
10:30 a.m. — Pro Mod Series coverage (delayed) on Fox Sports 2
---
Stadium Super Trucks:
12 p.m. — Adelaide, Australia (delayed) on CBS Sports Network
1 p.m. — St. Petersburg, Florida (delayed) on CBS Sports Network
2 p.m. — Long Beach, California (delayed) on CBS Sports Network
3 p.m. — Detroit, Michigan (delayed) on CBS Sports Network
6 p.m. — Detroit, Michigan (delayed) on CBS Sports Network
---
Monster Jam: East Rutherford, New Jersey
12 p.m. — Event (delayed) Fox Sports 1
---
NASCAR Xfinity Series: American Ethanol E15 250 at Iowa Speedway in Newton, Iowa
1 p.m. — NASCAR RaceDay on Fox Sports 1
1:30 p.m. — Race on Fox Sports 1
---
Lucas Oil Off-Road Racing Series: Round 3 at Lucas Oil Off Road Park in Lake Elsinore, California
2 p.m. — Pro 4 and Pro Buggy races (delayed) on MAVTV
5 p.m. — Pro 4 and Pro Buggy races (delayed) on MAVTV
7 p.m. — Pro 4 and Pro Buggy races (delayed) on CBS Sports Network
---
Red Bull Global Rallycross: Daytona International Speedway in Daytona Beach, Florida
2:30 p.m. — Coverage (delayed) on NBC
---
FIM Motocross: MXGP of Great Britain in Matterly Basin, Great Britain
4 p.m. — MX2 race (delayed) on CBS Sports Network
5 p.m. — MXGP race (delayed) on CBS Sports Network
---
Lucas Oil Off-Road Racing Series: Round 4 at Utah Motorsports Campus in Toole, Utah
8 p.m. — Pro 4 and Pro Buggy races (delayed) on CBS Sports Network
---