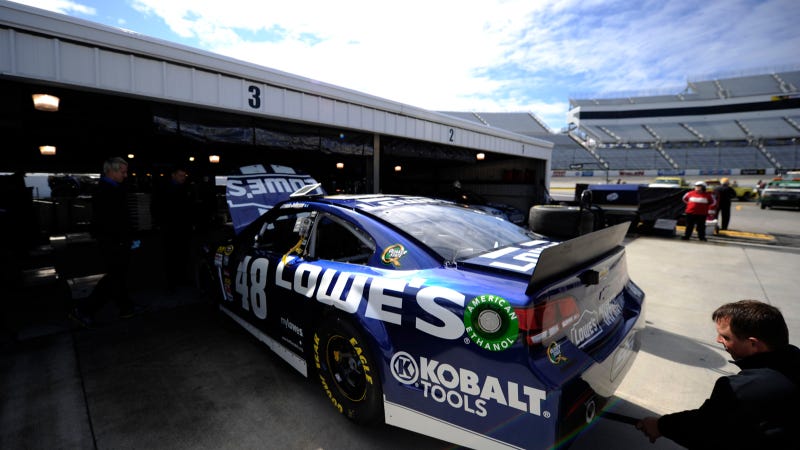 Welcome to the Jalopnik Weekend Motorsports Roundup, where we let you know what's going on in the world of racing, where you can see it, and talk about it all in one convenient place. Where else would you want to spend your weekend?
Our favorite racing drivers are getting back in the saddle this weekend after last week's break for the Easter holiday. Unless your favorite drivers are Formula One drivers, in which case you have to wait until next week.
Still, there's some great stuff ahead of us this weekend, like NASCAR in Virginia, Indy Car in Alabama, and the season opener for MotoGP in Qatar. One of those locations is not like the other ones.
As always, let us know about anything we might have missed, as well as good racing live streams out there on the web. Happy trails.
Photo credit Getty Images
All times Eastern.
Saturday, April 6
MotoGP Commercial Bank Grand Prix of Qatar Qualifying
Losail International Circuit
Doha, Qatar
1 p.m. on SPEED2
NASCAR Camping World Truck Series Kroger 250
Martinsville Speedway
Martinsville, Virginia
1:30 p.m. on SPEED
Continental Tire Sports Car Challenge
Barber Motorsports Park
Birmingham, Alabama
5 p.m. on SPEED2
Indy Car Honday Grand Prix of Alabama Qualifying
Barber Motorsports Park
Birmingham, Alabama
5 p.m. on NBC Sports Network (Same-day rebroadcast)
AMA Supercross
Reliant Stadium
Houston, Texas
8:30 p.m. on SPEED
NASCAR Sprint Cup STP Gas Booster 500 Final Practice
Martinsville Speedway
Martinsville, Virginia
11:30 p.m. on SPEED (Same-day rebroadcast)
Sunday, April 7
NASCAR Sprint Cup STP Gas Booster 500 Race
Martinsville Speedway
Martinsville, Virginia
1 p.m. on FOX
MotoGP Commercial Bank Grand Prix of Qatar Race
Losail International Circuit
Doha, Qatar
3 p.m. on SPEED
Indy Car Honday Grand Prix of Alabama Race
Barber Motorsports Park
Birmingham, Alabama
3 p.m. on NBC Sports Network
Rolex Sports Car Series Porsche 250
Barber Motorsports Park
Birmingham, Alabama
5:30 p.m. on SPEED (Race from Saturday)