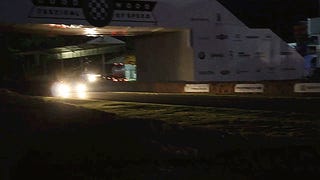 I got an invitation to a black tie party once from the Goodwood House, but I couldn't make it. Yesterday evening though, they held another one which we attended without having a tie, or wearing anything even remotely black. We had to. They had rotary race cars.
Mazda is the main sponsor of this year's Festival of Speed, and not unlike Lord March, they had plenty of special guests to throw a party for. It's pretty much the same schedule every year:
When the peasants get out, people start to show up in black tie at Lord March's doorstep. They grab a few flutes of champagne, chat about pleasant things and wait for the spectacular fireworks to start at 10:30 pm.

Now, Andy, Matt and I certainly belong to the lower social class that should have got out of the place by then, but since we set up our tents just up the hill, after grabbing some burgers at the local McDonald's Drive Thru, we headed down anyway to witness how old Mazda race cars come alive at night for the men and women in black.
By the end of the party, my second double cheeseburger got cold in the paddocks. Guess whether it was worth it or not.
Contact the author at mate@jalopnik.com.