Rallying is largely the same sport as it has been for the past three decades, but with cheap Go-Pros and affordable high-def cameras, we are now entering a golden age of rally footage. Reminisce about Group B all you want; as of today, rallying has never looked better.
If you've ever sat through the grainy rolls of super 8 film that used to define rally coverage, you're very used to watching Porsche 911s silently driving through forests from far away. Even in the 1980s, when unbelievably fast, loud, unrestricted Group B cars blasted inches away from throngs of spectators (and sometimes straight into them), the footage left much to be desired. The very best rally video of Group B seems to be from recent years, with slow-motion remixes making up for the low-quality video.
Television coverage lags for international rallying, with this year's Rally Sweden hustling to get out on the air, but local rallies and amateur footage are booming. The video from this year's 100 Acre Wood rally alone is incredible. Rally America is now shooting on new RED cameras at 120 frames per second. Ken Block was out testing and the footage was awesome, but I could go to complete unknowns for great video as well. The videos from FY Racing, which you can find on their Vimeo channel, are spectacular.
On top of all of this, we have the sheer availability of all this footage. If I had been watching rallying back in 1988, how many months would have gone by before I saw the legendary film of Ari Vatanen's breaking the Pikes Peak record that year, Climb Dance? Today, I can watch uploaded official international rally coverage online within hours of its original broadcast. I can expect edited short films to come out within a day or two after a rally.
That's not even taking into account fan video. People aren't running out into the middle of the road to snap pictures of oncoming cars anymore, but their videos are much, much better quality than ever before. They're not hard to find, either; look up any random rally club and be sure to find high-def video like you're right there. If I want to watch a professional rally, I can count on spectators to upload any crash on any corner to YouTube as soon as it happens.
Even those who are completely obsessed with old-school rally cars are better served today than in the past. All of the vintage oversteer of rear-wheel-drive Ford Escorts, and all of the big sound of Lancias and Audis from bygone years are still being filmed, just at classic car rallies and hillclimbs sprouting up all over Europe.
G/O Media may get a commission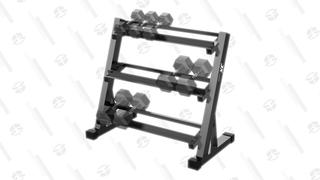 20% Off
JX Fitness Dumbbell Rack
Gains but tidy
Has a three-tier design to help store more weights more conveniently, can safely support up to 1000lbs of weight, which should be enough for most people, has a triangle base for stability, and also features anti-scratch feet which is great if you've built your own studio or workout in your garage.
In short, you're getting significantly better rally footage than ever before, and you're getting it faster than ever before, and you're getting more of it than ever before. While litigious America is is making it harder for spectators to stand near the tracks, you, the faraway viewer, are closer to the action than ever before.
(Hat Tip to: DustyVentures and FY Racing!)
Photo Credit: kyn_chung