What goes up must come down, and when it is your aircraft's turn to land, you definitely want everything working properly. Unfortunately for a pilot in the Netherlands this week, the nose gear on his Diamond Katana somehow became stuck. The pilot was seemingly aware of the issue and handled the situation as gracefully as possible.
Watch the aircraft bounce off the runway at 0:17, which the pilot may have done on purpose to dislodge the stuck nose gear. After a few subsequent lighter bounces and one big swerve to the left, we see that everything is under control despite the wheel acting like it came from a busted shopping cart.

The aircraft seen in the video (registration PH-FLK) is based in the Netherlands and appears to be owned privately. This incident took place on August 2nd at Breda International Airport, which is near the border with Belgium. The Netherlands was rocked by a massive summer storm last week, causing many aircraft to perform scary-looking crosswind landings at Amsterdam's Schiphol airport.
Diamond Aircraft DA20 Katana's in service with the Ecuadorian Air Force
Katanas, also sometimes referred to by their model number, "DA20," are single piston engine, two-seat aircraft with a bubble canopy, low wing and a T-tail. They are popular with flight training programs such as Embry-Riddle and are currently used to train pilots in the Ecuadorian Air Force.
G/O Media may get a commission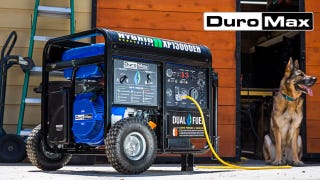 Black Friday Sale
DuroMax Generator Sale
Flight Club salutes this pilot for making the most of a sticky situation!
Photo credit: Top shot gif via embedded YouTube, Ecuadorian Air Force Katanas - Diamond Aircraft
Follow the author on Twitter: @collinkrum