Locals gathered along the shores of Lake Marble Falls in Central Texas this weekend to watch the largest explosive bridge demotion in history. As impressive as it was in person, it's doubtful any of them were able to see the implosion in the detail you're about to see in this amazing HD slow-motion footage shot at 300 frames per second by photographer Kirk Drummond with a RED Epic camera.
In the first 15 seconds of this video you don't see much. The water laps slowly. A light on a police boat flashes slowly in the distance. Then the blast cords light up across one edge of the bridge. A destructive light that starts a chain of explosions along the bridge.
At 300 FPS you can pick out details probably missed in real time. for instance, the blast cord makes it all the way across this section of the lake before the first part of the span even hits the water. The people on the fishing boat in the foreground appear to barely move.
It's a ballet of steel and smoke choreographed by Isaac Newton and a few demolition experts.
If you were curious, this is the U.S. 281 truss bridge over Lake Marble Falls, which the Texas Department of Transportation is taking down and replacing with a larger, safer bridge. According to KVUE, a local recycling company is going to pick up the steel and melt it into sculptures for the City of Marble Falls.
G/O Media may get a commission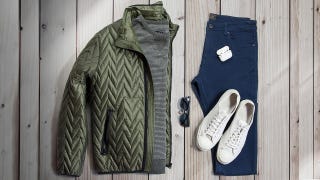 60% off
Jachs NY Fall Sale 60% Off
The whole exercise was perfect but for one small detail: they knocked out phone service for some people in the surrounding area.
UPDATE: Here's another angle.