Say what you will about Detroit, but we've got good housing stock. And I've said before, there are more than plenty of neighborhoods that are still attractive to would-be homeowners. That's a blessing and a curse, as some residents try to get over on a solid home.
Tales of squatters in Detroit always make for good TV broadcasts, so WXYZ sent investigative reporter Ronnie Dahl to an eastside neighborhood (which looks like East English Village but I could be wrong) to find out how a family was squatting in a Chase Bank-owned home for so long.
After "months" of back-and-forth with the bank and the authorities, the family was evicted, with Dahl and the TV station taking credit. Chase sent over a dumpster to the home while bailiffs shooed the family out.
What WXYZ aired was a twisted comedy of errors. I can't figure out my favorite part, but if I had to rank them:
1. A very .GIF-able shot of Dahl running toward a moving SUV speeding from a driveway.
G/O Media may get a commission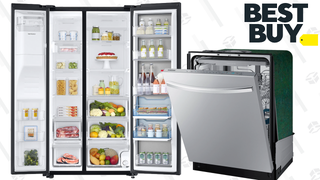 Up to 50% off
Best Buy - Samsung Major Appliance Sale
2. The family in an old, first-gen Chevy Malibu circling the block while Dahl filmed outside the home, throwing a drink on her the first time and threatening her with barbecue sauce a second time. They threw the sauce on the news truck later. ("Well, that was the barbecue sauce there.")
3. One woman calling Dahl a "white piece of trash"
4. The family crashing a live shot of Dahl as she tried to wrap up the report ("Just so you know, you guys are live on television!)
5. The family apparently threatening to shoot Dahl and her cameraman. ("Oh, you're going to shoot us?")
Here's the :30-second wrapup, aka the version WXYZ wants you to share all over Facebook:
Related, but unrelated: Did the homes on that street look attractive to you? The City of Detroit has a few homes in that neighborhood going up for auction soon, starting at $1,000.