If you've always wondered which of the current crop of SUVs is best off-road, Autocar did a head-to-head comparison between the Jeep Wrangler, Land Rover Discovery, Mercedes G-Wagon, Toyota Land Cruiser, Dacia Duster and a modified Isuzu D-Max. So get ready for some off-road goodness.
OK, so this short video (which, admittedly, is a couple of months old) isn't going to be nearly enough for you to decide which of the six 4x4s is best out in the sticks. Still, it's rare to see all of these vehicles come together in the same place, so let's just enjoy some off-road footage of four legendary SUVs and also two decent challengers:
As a true off-road comparison, this test has some flaws, obviously. The primary one being that none of the tests were nearly difficult enough. All six trucks made it up the hillclimb, and all but the Dacia Duster made it through the rock garden. In the latter test, it looks—based on the video—that the Duster probably would have been fine if the host, Matt Prior, had given the car just a smidge of momentum.
But then again, I can't really blame him for taking it easy. As you can see in the hillclimb part of the video, the last time Matt punched the Dacia's skinny pedal, this happened:
G/O Media may get a commission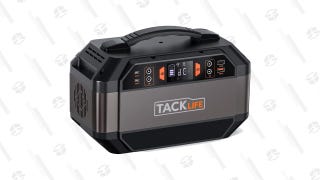 Tacklife Portable Solar Generator
The final test, the timed rally stage-type thing, really wasn't a great way to compare the vehicles' off-road capabilities, but either way, it's just fun watching these stalwarts flex their muscles off-road. Even if some of them are not getting a full workout.