This is The Morning Shift, our one-stop daily roundup of all the auto news that's actually important — all in one place at 9:00 AM. Or, you could spend all day waiting for other sites to parse it out to you one story at a time. Isn't your time more important?
1st Gear: The Hong Kong Police Will Roll On Electric Motorcycles
I don't remember ever seeing an episode of CHiPS where Ponch and John plugged their bikes into a wall, but there are many obvious advantages to having an EV bike, which Zero S Motorcycle recently launched.
There's a good article about this on Wired's Autopia blog, pointing out that the vehicles are just as maneuverable as their gasoline counterparts and have the benefit of stealth you're not going to get with a Harley.
G/O Media may get a commission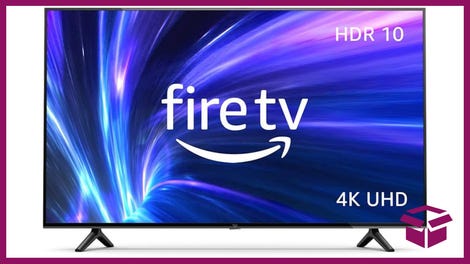 42% Off
Amazon Fire TV 50" 4K Smart TV
The bikes, which are modified with lights and a shotgun rack, have found a new home in Hong Kong. A total of 59 bikes were delivered, according to the company, most of which will end up with the police.
Don't say we didn't warn you.
2nd Gear: GM's Mark Reuss Names Customer Service Award After Himself
The real story in this Detroit News piece about GM's commitment to customer service is that company recognizes it sucked at it and is now making real attempts to fix this.
It's a smart move for the company and they deserve credit if they make it work… yada yada yada.
What's amusing me most in this story is that Reuss created a customer service award and then named it after himself. It's called the Mark of Customer Excellence and Reuss says "It's like a Stanley Cup trophy."
The first winner is a senior project development engineer who went out of his way to drive to fix a customer's Chevy Malibu that had a specific problem.
It could be a coincidence that it's named the "Mark Of Customer Excellence" but, c'mon, Mark Reuss is crazy.
3rd Gear: Cherokee Delayed
Oops. The 2014 Jeep Cherokee isn't quite being produced at the level they intended reports the Detroit Free Press. The company says they'll still have plenty of inventory when it rolls out to dealers this fall. i.e., they say they're not going to Lincoln MKZ it.
4th Gear: Mercedes S Class Is Big In China
The 2014 Mercedes S-Class launched this week to much crazy fanfare and we learned some interesting facts about the important new car from the brand. From Bloomberg comes the fact that, like everything else these days, it was designed with China in mind.
"Engineers traditionally focus on the driver seat position," Zetsche said in an interview. "S-class owners often experience their car from 'the second row,' especially in China," where luxury cars are frequently driven by chauffeurs.
5th Gear: London Gets A Bunch Of Hiluxes For Their Airport
This is in no way anything remotely near big news, but London City Airport just bought three of them and they look awesome. If you're flying into the airport definitely look out for the three trucks.
Reverse: The Beginning Of The End
On this day in 2005, Toyota Motor Company announces its plans to produce a gasoline-electric hybrid version of its bestselling Camry sedan. Built at the company's Georgetown, Kentucky, plant, the Camry became Toyota's first hybrid model to be manufactured in the United States.
[HISTORY]
Neutral: Are You Afraid Of The Electric Police Bike?
Photo Credit: Getty Images