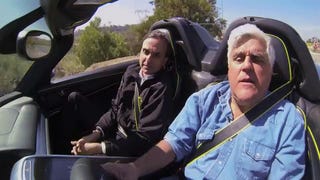 I feel terrible for Jay Leno sometimes. He loves cars so much, but he doesn't own any cool ones and never, ever gets to drive anything interesting. The man has a tough life, so I'm really glad he got the chance to sample a Porsche 918 Spyder in all its glory.
Okay, I'm just jealous. But everyone is jealous of Jay and his garage. And in his latest video, he explains that the hybrid 887 horsepower 918 Spyder isn't just one of the fastest cars ever, but rather "a race car you can drive every day."
The first part of the video is an explainer about how the car works, and the second is the actual road test. We've seen plenty of hardcore 918 track hoonage so far, but Jay's video shows that the car happens to be surprisingly driveable in real-world settings, much like a 911 is. He and Porsche's Daniel Eastman say it's far easier to drive than a Carrera GT.
Oh, and when you want to get on it, it's unfathomably, mind-blowingly fast. Carry on.