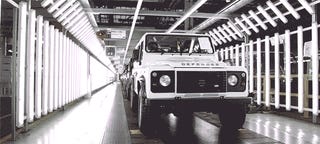 The classic Land Rover's story will almost definitely come to an end this December, but before it does, hundreds, maybe even thousands of Defenders will be built in England, largely by hand. So here's how the world's best off-roader is born.
The Defender starts at roughly $35.000 in the UK, and while unfortunately America is not getting these honest 4x4s either way, some in other parts of the world might consider that to be a high price to pay for a very utilitarian base model. But that's only until you realize how much labor goes into each one of them. Not to mention that those trusty diesels are built to last take you higher, further and back, come rain or shine.
Here's where the magic happens:
The base car won't do it for me though. I'm afraid I will need $46,787 instead, or $93,574, so I can buy two of the 2015 Heritage Edition cars.
I would rename this color happiness green.
Photo credit: Land Rover