If there's a do-not-miss set of races to watch from the Pirelli World Challenge weekend at Circuit of the Americas, it's the touring car group: TC, TCA and TCB. The craziest race of them all was the last TCB (or B-Spec) race from the weekend where these small, hyper-aggressive little cars bump and spin in the wet.
Welcome to Onboard of the Week, a feature where we spend that pesky time between races looking at awesome footage from inside the car.
This video comes from inside James Wilson's number 55 Black Armor Helmets B-Spec Mazda2. These races are under an hour in length, yet Wilson managed to hop ahead fourteen positions in the race to claim fourth in TCB for this drive, earning him the "Hard Charger" award from Pirelli World Challenge.
This race started out soaking wet. Rain had been falling all afternoon, and was only now starting to lighten up a little bit. It was wet enough that Pirelli World Challenge opted for a rolling start instead of their usual standing starts. Even with front-wheel-drive, the B-Spec field still turned to utter chaos.
G/O Media may get a commission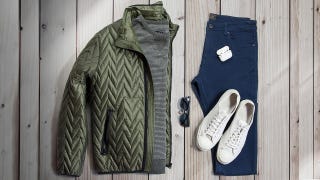 60% off
Jachs NY Fall Sale 60% Off
Just to be clear, though: everyone slides around in this race. Everyone. Not just TCB. Everyone.
As the track started to dry, the wet tires started to fall off as well. By then, everyone was so used to sliding around that the lack of grip didn't seem to make much of a difference.
What follows in this onboard video is a proof of concept to anyone who's ever told their LeMons team to "keep your nose out of it; let them take each other out." Wilson spends a lot of time hanging back from a pack of cars that's all up in each others' space. This seems to work for him when the various aggressive packs in the field run all into each other. This allowed Wilson to execute one of the best thread-the-needle moments I've seen in a long time.
The race itself starts at around 8:43, right as all the rooster tails kicked up by the cars at the front of the field nukes any semblance of visibility ahead.
Did you miss this race as it happened live? All three TC/TCA/TCB races will be televised on CBSSN at 8:00 p.m. EDT on Wednesday, March 18.

Have an awesome onboard video to share? Drop me a line at stef.schrader@jalopnik.com or post it in the comments below.