A Sikorsky UH-60 Black Hawk helicopter weighs about 10,000 pounds. A bit less without the rotors, but it's still an immense amount of weight to dangle off a string attached to another helicopter. Watch this Boeing CH-47 Chinook make light work of it.

This footage was sent to us from the 40th Combat Aviation Brigade's Public Affairs Officer, who tells us this slingload operation took place in Kuwait not too many days ago. Of course it's a little more complex than "a string" tying the choppers together. Carrying heavy items under (or inside) its belly is the Chinook's primary mission designation.
"The Chinook has a triple hook system, which provides stability to large external loads or the capacity for multiple external loads," as explained by Military.com. "Large external loads such as 155mm howitzers can be transported at speeds up to [about 160 MPH] using the triple hook load configuration. Multiple external loads can be delivered to two or three separate destinations in one sortie."

The maximum capacity of those hooks is 26,000 pounds, putting this stripped-down Black Hawk well within the Chinook's capability.
The aircraft is lifted by two mighty T55 turboshaft engines with over 4,000 shp (power delivered to aircraft propellors) spinning rotors that span 60 feet in diameter.
G/O Media may get a commission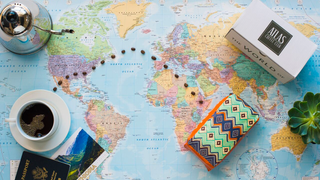 First Bag Free
Atlas Coffee Club - Free Coffee
Explore global coffee
With each bag, Atlas includes details on the coffee's tasting notes and a postcard about the region and its coffee history. And when you subscribe, you have options to tailor frequency, grind size, and roast preference of your beans, so you'll always be brewing the perfect cup.
It takes three to crew a Chinook– two pilots and one observer, the latter of which seems to be wearing a GoPro on their helmet through most of this video. 33 other passengers can also fit inside the aircraft.
Hat tip to LTD!