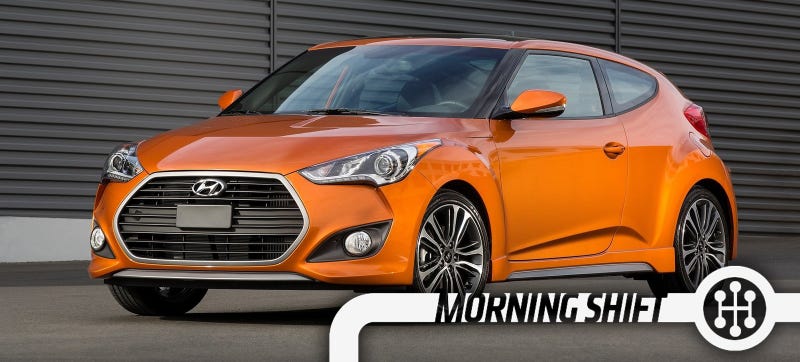 The Morning Shift
All your daily car news in one convenient place. Isn't your time more important?
Good Morning! Welcome to The Morning Shift, your roundup of the auto news you crave, all in one place every weekday morning. Here are the important stories you need to know.
1st Gear: Big Wins For Hyundai And Korea, Maybe
That is, if you put a lot of stock into J.D. Power & Associates' Initial Quality Study, which measures problems with new vehicles within their first 90 days of ownership. It's mostly good for marketing, but it's about to mean a good marketing opportunity for Hyundai and Kia, which just trumped the Japanese in that study for the first time ever. Via Bloomberg:
The two South Korean companies averaged 90 problems per 100 vehicles in the Initial Quality Study, released Wednesday, outpacing European, U.S. and Japanese competitors. Porsche was the top brand for the third year in a row, followed by Kia, Jaguar and Hyundai. The survey is based on consumer reports from the first 90 days of ownership.
Porsche's a regular on that list, but it's damn impressive Jaguar of all automakers is in the top three. Then again, the chief complaint with all vehicles was "entertainment systems and connectivity technology," so maybe the Koreans are just doing those better than the Japanese these days.
2nd Gear: Sergio Wants To Force A Merger
Thirsty automotive CEO Sergio Marchionnne hasn't given up trying to get General Motors to merge with his company, Fiat Chrysler. While GM CEO Mary Barra rebuffed his advances, he's turned to activist investors to try and force the issue that way, reports Reuters:
General Motors and Fiat Chrysler Automobiles have turned to investment banks for help to deal with a stand-off as FCA seeks to force a merger with its Detroit-based rival, according to sources familiar with the matter.

GM is being advised by Goldman Sachs, while FCA is working with UBS on the matter, several sources said, with one adding that Morgan Stanley was also working with GM.
Does anyone besides Sergio want this to happen? No? Didn't think so.
3rd Gear: Lincoln-Hating Bentley Design Chief To Hyundai
Luc Donckerwolke, who left his post as Bentley styling chief not long after calling out the awfully similar Lincoln Continental, has already found a new job. He's moving to Hyundai, reports Automotive News.
Hyundai declined to comment on the report but Automotive News Europe sources confirmed that the Belgian designer quit as styling chief at VW Group's Bentley brand earlier this month to take up the "offer of a lifetime" at Hyundai.

Like Schreyer, Donckerwolke, 49, worked as a designer for Audi during his 23-year career with VW and was also head of design at the group's Lamborghini and Seat brands.
Interesting news. Hyundai could use some spicing up.
4th Gear: A Less Centralized Volkswagen Group
As we reported earlier this week, the Volkswagen Group — once run rather autocratically by its former Chairman Ferdinand Piëch — is splitting its various brands among four holding companies. What could that mean? It's trying to be faster and more flexible to the needs of each region, reports Bloomberg:
Europe's largest carmaker is examining sweepingorganizational changes to break from the centralized managementstructure under former Chairman Ferdinand Piech, who resigned inlate April after failing to oust Winterkorn. The company ise valuating whether it still needs separate executives for sales,production and the Chinese market, people familiar with the matter said earlier this week.
What this actually means for products remains to be seen.
5th Gear: We Have All The VINs For The Takata Recall
Ah, you thought you could read a Morning Shift without any Takata airbag recall news, didn't you? Not so fast. But there's actually some good news today, kind of.
Per The Detroit News, automakers have now identified all vehicles with potentially explosive and deadly Takata air bags and posted their VINs online for customers to see. That's a positive thing, considering 34 million vehicles are at stake. Go to safercar.gov to see if yours is among the recalled cars.
"An informed consumer is one of our strongest allies in ensuring recalled vehicles are repaired," said U.S. Transportation Secretary Anthony Foxx. "NHTSA's VIN search tool at safercar.gov makes it easy for consumers to check if their vehicle is affected by the recall, and to take action in getting the air bags replaced."
Reverse: Checker!
On June 18, 1923, the first Checker Cab rolls off the line at the Checker Cab Manufacturing Company in Kalamazoo, Michigan.
Neutral: Are Hyundai And Kia That Much Better Than Toyota And Honda?
Or is J.D. Power's study just bunk?
---
Contact the author at patrick@jalopnik.com.