Hurricane Sandy hit Jersey City pretty hard. During the storm on Monday night, we had about three to four feet of water on the ground. I watched as water killed every car in the lot across the street, their alarms and horns blaring until they were drowned.
Then it happened: Power went out around 9PM Monday.
It's still out.
The last few days have been pretty awful. There's no heat, there's no hot water, there's no power. It's been unimaginably worse for many neighbors, who have been pumping hundreds of gallons of water out of businesses and basement apartments. The streets are littered with debris, dirt, and cars that are now drowned.
It's really depressing and I'm trying to help local businesses and residents as much as I can.
There are also little inconveniences. I couldn't shower, which is a big part of feeling normal for me. No shower = no normalcy. I took one cold shower by candlelight that was truly awful, it may have made me feel even less normal.
G/O Media may get a commission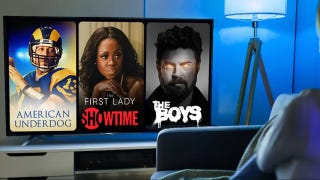 UNDER $1
99¢ Prime Video Channels
That's why I was looking forward to today. On occasion, us in the auto journo biz get to travel places. And when we go internationally, we, for some unknown reason, get flown Business Class. It's a treat in the air, but also on the ground.
I was in desperate need of a hot shower, and the United Lounge here at Newark Airport came to my rescue.
They have showers. Glorious, glorious showers. The pressure is awesome, the water is warm, they give you all the accouterments you'd expect, like shampoo, body wash, and towels. It's a pleasure. And with a Business Class ticket, you get access. My fellow passengers on my long haul trip (which I'm doing for you, the Jalopnik readerati) won't have to complain about my very unpleasant smell.
Trust me, it was bad.