This is The Morning Shift, our one-stop daily roundup of all the auto news that's actually important — all in one place at 9:00 AM. Or, you could spend all day waiting for other sites to parse it out to you one story at a time. Isn't your time more important?
1st Gear: Volkswagen's Batty Design GTI
The pinnacle of VW's Wörthersee festival is always the one extremely crazy model they produce just because they can. The most surprising of these was the W12-powered 'Golf From Hell' of 2007.
G/O Media may get a commission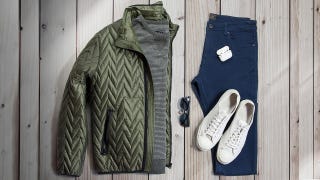 60% off
Jachs NY Fall Sale 60% Off
Now VW has a race car in the form of the "Design Vision GTI," which we have renders of here. There's no insane engine swap in this one, but rather a 3.0-liter V6 TSI with twin turbochargers that produces a mad 503 horsepower and 413 lb-ft of torque put down through an AWD system and a DSG tranny.
What's that mean? A top speed of 186 mph and a 0-to-60 mph jaunt in just 3.9 seconds. Brining all this to a stop is a set of 15- and 14-inch ceramic brakes with 20-inch alloys that have built-in brake cooling.
For a random concept car the shorter, wider, and lower "Design Vision GTI" has specs that are surprisingly detailed. Is some slightly less insane version of this car going to appear as an R32 model later down the line?
2nd Gear: Ford Fiesta Is Doing What It Promised
The problem with entry-level, youth-focused cars is sometimes they attract exactly the opposite. While kids were supposed to flock to the HHR and PT Cruiser, it was actually old people who loved them. The same could be said for the Scion xB.
What about the new Ford Fiesta? According to Karl Henkel, it's working.
Here are the numbers:
60% of buyers are first-time Ford buyers 30% of buyers are first-time car buyers of any kind 25% of buyers are those Millennials everyone wants 67% of buyers bought another Ford product
Not bad, Ford, not bad.
3rd Gear: The Trouble With Jaguar
Jaguar makes great cars. Competitive cars. Cars you should absolutely cross-shop with Cadillac, Mercedes, BMW, Lexus, and Audi. So why, despite growth, does Jaguar not carry the same cachet as Range Rover?
Jaguar Land Rover North America CEO Andy Goss explains to Automotive News that it's an issue of awareness and of reputation for poor quality he says are undeserved. We like his answer, though, for how to fix it:
We have to move the Jaguar brand image forward. Cars that appeal to the head do not change the brand image. Schoolboys do not put pictures of all-wheel drive on their bedroom walls. They put up pictures of sports cars. The F-Type will appeal to both genders and a younger customer — 91 percent of the more than 50,000 hand-raisers are new to Jaguar. That is more than Range Rover achieved with the Evoque.
4th Gear: Toyota's Profits Hit 9.7 Billion
In yet another sign of what currency devaluation can do, Toyota said its full-year net profit (they're on a different financial year) has tripled to $9.7 billion. It's a nice turnaround after coming off a couple of weaker years thanks to natural disasters (tsunami, Malaysian floods) and man-made ones (recalls, anti-Japanese Chinese sentiments).
While there are lots of reasons why this is, including a Chinese market that's slowly turning around in their favor, the big thing to look at is the help all Japanese automakers are getting from a weaker yen.
The lower the home currency (it's lost about 20% to the dollar) the cheaper it is for them to produce cars and the more money those cheaper cars bring in thanks to higher foreign income. The party can't last forever, of course, but they're cashing in while the cashing in is good.
5th Gear: Subaru To Build The Impreza In The U.S.
Per the AP, Subaru says it'll increase its investment in their Indiana plant so they can hire 900 more workers to produce the Impreza starting in 2016. The plant already makes the Legacy, Outback, Tribeca, and produces Toyota Camry sedans on contract with Toyota.
Subaru's U.S. sales are more than twice what they were five years ago. Despite this, Impreza sales are down simply because they don't have enough of the cars to put into consumers hands. All of the Imprezas sold in the U.S. were imported from Japan.
Reverse: Henry Ford II Resigns As Chairman Of Ford Foundation
On this day in 1956, Henry Ford II, the namesake and grandson of the legendary automobile pioneer, resigns as chairman of his family's charitable organization, the Ford Foundation. Henry II's father, Edsel Ford, created the Ford Foundation in 1936 as a legal way for the family to escape the so-called "soak the rich" taxes imposed by President Franklin D. Roosevelt's administration on estates worth more than $50 million. The foundation would receive the bulk of the elder Henry Ford's estate, as well as an endowment from Edsel's, resulting in a 95 percent (non-voting) stake in Ford Motor Company valued at almost $493 million. This guaranteed $25 million of dividends per year, making the Ford Foundation by far the richest charity in the country.
[HISTORY]
Neutral: A New R32?
Does VW need both a GTD and a new R32? Should they build a Juke R-like supercompact?
Photo Credit: AP Images