VW wants to "dominate" the US market, using its against-the-odds current strong sales and profits (relatively) to go counter-cyclical and triple US sales. An American-made mid-size sedan is at the center of those plans.
Full Disclosure: VW wanted us to write about their new product plans to badly, they flew me all the way to Wolfsburg and fed me fried lard. Surprisingly, fried lard is pretty tasty, although its texture is surprising when you think it's going to be mashed potatoes.
VW showed us and a bunch of elderly curmudgeons auto journalists sketches of that mid-size sedan (code named "NMS") at their Wolfsburg plant last week. While we weren't able to take pictures, just imagine a CC/Phaeton love child that sits somewhere between the two in terms of size. It's swoopier and more closely related to the CC than the sketch above. Arriving as either a 2012 or 2013 model, the VW NMS will be larger than the Passat, which VW had determined is too small to achieve strong sales in America.
To keep the price free of currency fluctuations and to appeal to patriotic buyers, the NMS will be built at a new factory in Chattanooga, Tennessee that'll open in 2011 with production of that vehicle. That plant's annual capacity is 150,000 vehicles, a healthy chunk of the 800,000 vehicles VW wants to sell here annually by 2018.
G/O Media may get a commission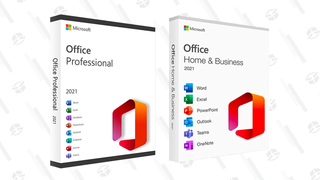 89% off
Microsoft Office Professional 2021 Lifetime License
Even as other automakers go bankrupt and face a huge downturn in sales, VW increased its global market share to 12% as of July and reported a $1.77 billion operating profit during the first half of this year.
Joining the NMS to reach that sales goal will be a new version of the Ford Fiesta-rivaling VW Polo, likely equipped with a choice of 1.2 and 1.4-liter supercharged and turbocharged TSI engines. Those engines are sort of a lower-cost, lower-weight alternative to hybrid powertrains, offering the power of larger, 2.0 or 2.5-liter engines with the fuel consumption of the smaller capacity. Expect to see the larger of those two engines in the Golf, too.
We had the opportunity to try that 167 HP 1.4-liter TSI engine in the VW Passat on the Oschersleben track and found its lack of capacity wasn't detectable over the 2.5-liter five-cylinder Golf we drove on the road earlier in the day. In fact, the 1.4 makes equivalent torque (177 lb/ft) to the 2.5, but across a much wider rev range (1,500 to 4,500 RPM) without any turbo lag or other downsides. Blindfolded, you couldn't tell the difference between the two engines until it came time to pay for fuel, the 1.4 achieves well over 30 MPG in the heavy Passat mid-size. Expect to see similar technology roll out across the VW and Audi lineup in a variety of engine sizes.
Also on the Eco front, the fully-electric VW E-UP ! will go on sale in 2013. The four-seat subcompact will be equipped with 18 kWh Lithium-Ion batteries powering an 80 HP electric motor good for 84 MPH and and 80-mile range.
The company also plans an all-new 2013 VW Beetle that'll be larger inside, with more leg room for rear seat passengers, yet the same size outside. That'll be thanks to less ridiculous, more sophisticated packaging designed to make the Beetle less of a joke and more of a halo car for the entire VW range.
Speaking of halo cars, the next-gen 2011 VW Phaeton will likely return to the US. Based on the same platform as the upcoming Audi A6 and A8, it'll cost in excess of $50,000, giving VW one of the most extensive ranges of any single brand, starting with the sub $15,000 Polo and running through the E-UP ! Golf, Beetle, Jetta, Eos, Tiguan Passat, CC, NMS, Toureg and Phaeton.
Last week we reviewed the US-market 2010 VW Golf TDI and found that it exorcised the Ghosts of VW's somewhat ill-spec'd past to create a nearly ideal practical car. It combined quality, luxury, fun and economy to create one of the most complete packages on the market today. If VW can do as well with the rest of its new products, that 800,000 US sales a year goal sounds totally feasible.