Following the full-scale presentation of the all new Volvo S90, Volvo confirmed that the sportier-tuned versions of its new flagship sedan and its V90 wagon sibling will be getting the Polestar tuning treatment - possibly with hybrid-electric power.
The introduction of the new S90 is Volvo taking on cars the likes of the Mercedes E-Class, the BMW 5-series, and Audi A6 — all of which come available in more performance-oriented models — so naturally a Polestar variation of the Volvo makes business sense.
Speaking to Autocar, Volvo's CEO Håkan Samuelsson acknowledged the competition, saying that taking on the likes of the BMW M-cars, Audi's S-line, and Mercedes-AMG was the motivation behind Volvo buying Polestar. It was also hinted that we are far more likely to see the V90 Polestar model over the sedan, since the Polestar variation of the S60 and V60 sells best as a wagon.
Autocar also claims that the Polestar models will get a hybrid performance set up, possibly optimized the T8 Hybrid powertrain on the shared platform the new XC-90 shares with the S90, but there has yet to be an exact confirmation of this. Instead, Volvo's R&D Chief Peter Mertens was quoted by Autocar saying:
"Polestar will still be sophisticated performance; it's not just a case of doing a 'boy racer' by dropping a big engine in there. Hybrid power is the direction that Polestar will go in. In a way, Tesla has legitimised electric performance, although Polestar will be more sophisticated again. We want to be able to offer high performance without regrets."

G/O Media may get a commission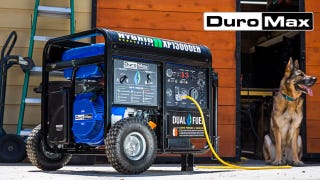 Black Friday Sale
DuroMax Generator Sale
It's of course extremely likely that Volvo will pursue a hybrid set up for their performance models, as they've set up the new scale-able platform just for such a thing and it makes logistical sense from a performance standpoint.
Volvo UK's Managing Director Nick Connor highlighted Tesla's "Ludicrous Mode" as a sort of springboard for where Volvo could take Polestar: maintaining the luxury aspect of the vehicle, but adding enough enchanting performance and getting people talking about the car as if it's a performance car.
The Hybrid S90 starts with 407hp, so we'll see how far Volvo plans to take that. What's "ludicrous" in Swedish?
Contact the author at justin@jalopnik.com or @WestbrookTweets.