While the whole Dieselgate mess was certainly villainous, it never really had the glamour to be, you know, supervillainous. But controlling the weather, now that's the sort of thing a supervillain can really get behind. That's exactly what Volkswagen was doing in the area around their Puebla, Mexico factory, and some farmers are less than happy about it.
In order to keep fresh, new cars from being damaged by hail while parked outdoors at the factory, Volkswagen installed hail cannons, cone-shaped devices that use a charge of acetylene gas and air to create a powerful shockwave that travels at Mach 1 into the clouds as hailstones are being formed.
The shockwave disrupts the creation of the hailstones, and the precipitation that would have formed the car-damaging stones falls as rain or slush.
Manufacturers of the cannons seem to agree that the effective area of the device is only a 300 to 600 foot square area directly over the cannon. The cannons are designed to fire automatically when sensors indicate certain meteorological conditions are met.
But a group of local farmers near the Puebla factory are claiming that the cannons are causing drought conditions, and that 5,000 acres of cropland have been affected. They're suing VW for $3.71 million dollars.
G/O Media may get a commission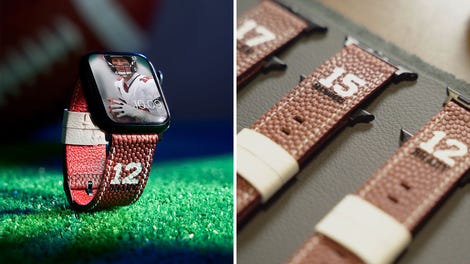 Official NFL PRODUCTS
Official NFL Apple Watch Bands
Gerardo Perez, the leader of the group of farmers in the area, told the news agency AFP that "the sky literally clears and it simply doesn't rain."
Interestingly, some Mexican farmers in other areas have been employing similar cannons as a way to prevent crop damage from hail.
Factory management and the farmers have been meeting thorough the Puebla government to try and resolve the situation, with VW agreeing to take the cannons off automatic mode and to put up some mesh over the cars as a lower-tech but effective way to keep the hail off. While compensation hasn't been ruled out by VW, no agreement has been settled yet.
VW is not the only automaker to use hail cannons, or get in trouble because of them; in 2005, Nissan's Mississippi plant got complaints from people unhappy with the noise from hail cannons there.
Clearly, VW needs to make smaller, roof-mounted hail cannons as standard equipment for all their cars, letting them disrupt hail in a much more concentrated way. Plus, it'll make the cars easy to spot in a parking lot.
We've reached out to Volkswagen for comment, and they provided this statement:
"Volkswagen de México is committed to sustainable relationships with their stakeholders

 Anti-hail devices are no longer used in automatic mode

The company will invest in laying of an anti-hail net

Dialogue with neighboring communities will continue

Puebla, Pue. - In a meeting with State Authorities, regarding the use of anti-hail devices by Volkswagen de México to protect their vehicles, the following agreements were established:

First: Volkswagen de México will immediately suspend the use of these devices in its automatic mode, and will only operate them manually when the weather conditions determine the imminent fall of hail in the yards where it protects its vehicles.

Second: In the short term, the company will invest in the installation of anti-hail netting. Once the anti-hail nets are installed in the yards of the automotive plant and in the external one, they will be used as the main measure for the protection of its vehicles; the anti-hail devices will serve as a secondary tool and will only be used in manual mode.

Third: Volkswagen de México will maintain a permanent dialogue with neighboring communities, where it will present information on the use of these devices and address the concerns that arise from these meetings.

With these actions, Volkswagen de México expresses its commitment to maintain sustainable relationships with its stakeholders: environment, neighboring communities and authorities."