The quad-turbo W16 in use in current Bugattis is a real engineering marvel, made of two banks of narrow-angle VR8 cylinder banks and quad-turbocharged. But before it was an ever stranger looking engine: the three-banked W18.

Yes, as it turns out there's more than one way to make a W-engine. You can have two banks of two or you could have three banks of one. Both sort of make a 'W' if you think about it, the former being more like a fancy W, the latter more like a normal W, or even kind of like a lower case y.

Here's the engine on a pedestal again.

G/O Media may get a commission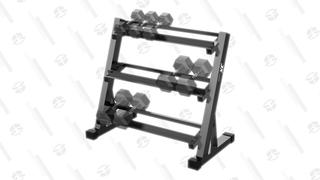 20% Off
JX Fitness Dumbbell Rack
Gains but tidy
Has a three-tier design to help store more weights more conveniently, can safely support up to 1000lbs of weight, which should be enough for most people, has a triangle base for stability, and also features anti-scratch feet which is great if you've built your own studio or workout in your garage.
Bugatti loved sticking this engine on a pedestal, for reasons beyond my understanding.

Bugatti's W18 was three banks of six, which I got to see up close a few years ago when I found myself with a few hours to kill at Volkswagen's headquarters in Wolfsburg. There's a gigantic campus there, Autostadt, which includes Volkswagen's museum. It's a fun spot if you have the chance, and very much a product of Volkswagen's old all-conquering mindset. The museum doesn't tell the history of Volkswagen alone; it tells the whole history of the automobile. Volkswagen reigns over it all, you see. Volkswagen is king.

In any case, it didn't take too long to see a fundamental flaw with this three-banked approach.

A regular V-engine lets you have a nice cool air intakes together in the middle with hot exhaust blowing out and away from the sides. You can also make a hot-vee, good for turbocharging, which also lets your cool intake air hide away from the hot exhaust.
An inline engine also allows you to keep hot exhaust and cool intake separate. (Not all inline engines are like this, but they probably should be.)
The three-banked W engine does not allow for this. One way or another, hot exhaust is going to be next to cool intake, and your engine is going to be asymmetrical. It looks wrong. It looks like an affront to all that is engineeringly holy.
Extra strange was that one cylinder bank laid on its side. It all looks a bit more orderly if you tilt your head to make the middle bank stand upright.
To be fair, though, it worked. Bugatti claimed its W18 made 555 horsepower and 479 lb-ft from its 6.3 liters. The engine appeared in four different concept cars, all of which came out at the end of the '90s as Volkswagen bought up the brand, all detailed on the wonderful Bugatti Page:
The EB118 front-engine GT

The EB218 front-engine sedan

The EB 18/3 Chiron mid-engine supercar

The EB 18/4 Veyron mid-engine supercar

The rear view of the Chiron concept give you a better sense of how the whole thing sat in the car, flopped over.
What impresses me most about this engine is that it was a dual overhead cam design with four valves per cylinder, making 72 valves in total. That is so many valves! My god.

Strangely, Volkswagen advertised that this W18, an engine that it said "no one had ever attempted to build" for passenger cars before it got to it, had commonalities with... the Lupo ultra-economy car:

A key feature of the overall design of the 316-kg, eighteen-cylinder engine is the use of components and assemblies from the Volkswagen modular engine system. The four-valve cylinder heads, combustion chamber valves, injectors and pistons are all from series-production engines. The 76.5-mm bore is shared by the three-cylinder engine in the Lupo 3L, introduced parallel to the EB 118 at the 1998 Paris Motor Show.

The engine was a product of Volkswagen, as detailed in the company's history, and that matches up with the stampings I saw on the block at Autostadt.

Confusingly, the engine also had 'Lotus' written on it, which I do not entirely understand. Bugatti owned Lotus in the early '90s, before Volkswagen took over Bugatti.
I don't think there's any reason to believe that Lotus helped design the engine, which also had GERMANY stamped on it as well.

Adding to its complication, the engine had a set of electronic brains, part of its cobbled-together nature. Thankfully, Volkswagen described how it all worked at the museum:
Other Y18 features include direct fuel injection along with the new master/slave system design for engine control. This consists of three six-cylinder systems that operate autonomously, but are coordinated by a single master control unit.

It's a shame that it was never put into production, ultimately losing out to the quad-turbo W16 that, if I'm honest, is at least if not more complicated than its predecessor.
Still, I will love this W18, maybe the most wonderfully weird, typically German engine design ever.