When building a brand new race car, sometimes it serves well to do set a few benchmarks and run testing on individual components. If you're testing a brand new drivetrain in a brand new chassis, you may have too many variables to properly suss out what needs to be fixed first. A driver can only provide so much input, and if the whole thing is pants, you'll spend the rest of your development cycle chasing down problems. Volkswagen only had nine months from the start of their I.D. R program until they smashed the Pikes Peak outright record, and this Golf was the first step in that process.
The Golf in question appears to be a lesser model from Volkswagen's motorsport endeavors, a TCR International compliant Golf GTI TCR. That front-wheel-drive racer usually makes do with about 350 horsepower. The I.D. R's electric motor drivetrain allegedly makes just over double that number, but chasing down electrical gremlins in a known chassis makes the task a bit easier.
This test mule also allows a team of engineers to work independently on the chassis/aerodynamics, and the engine/driveline development. As you can see in the video below, the engineers put in some serious work to get this car prepped in time for a PPIHC run. It's astonishing what those engineers can accomplish if they're given a loose enough tether.
One thing I do know, I would love to have a Golf GTI TCR-shaped eGolf with 700 electric horsepower. That would be seriously good.
G/O Media may get a commission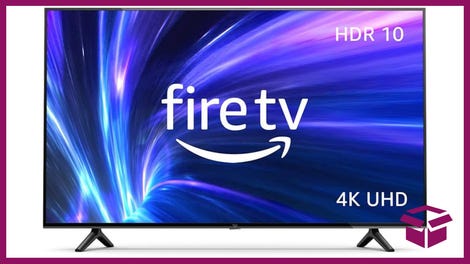 42% Off
Amazon Fire TV 50" 4K Smart TV
While we're on the subject of seriously good things, and Volkswagen's I.D. R race car, where is the Pikes Peak onboard video of the record, VW? When Porsche took the outright record at the Nordschliefe last week, they posted the full and unedited onboard video within three hours. We're over a week from VW's record run, and there's still no indication that an onboard is coming. PPIHC themselves loaded every class winner's POV video and an interview within 24 hours of the race ending, but still no sign of Volkswagen's.
What are they hiding from us? Why don't they want us to see? VW's I.D. R Pikes Peak onboard is the pee tape of the motorsport world.