Johannes van Overbeek from Flying Lizard Motorsports becomes the fifth American to win the Porsche Cup, which is given to the most successful private Porsche racer in the world. Based in San Francisco, Overbeek is currently racing in the ALMS GT2 Class with the Porsche 911 GT3 RSR above and won races in Lime Rock, Mid Ohio and the Ten-Hour Petitt Le Mans at Road America Atlanta. It was also announced that American Porsche Factory Driver Patrick Long has been named to a full time spot on the Penske Racing team for 2008. USA! USA! USA! Release below the jump:
FLYING LIZARD MOTORSPORTS' VAN OVERBEEK BECOMES FIFTH U.S. DRIVER TO WIN PORSCHE CUP - WORLD-WIDE TROPHY FOR MOST SUCCESSFUL PORSCHE PRIVATEER
—Patrick Long, Only American Porsche Factory Driver, Named to Penske Racing team for 2008—

ATLANTA - December 11 - Johannes van Overbeek, from San Francisco, and partner of the Flying Lizard Motorsports team based in Sonoma, Calif., has won the 2007 Porsche Cup. This is the trophy that the Porsche factory in Stuttgart, Germany, has been awarding each year since 1970 to the most successful driver of a private Porsche racing car. On the occasion of the Porsche Motorsports Night in Weissach, Germany, this past weekend, Executive Vice-President for Development Wolfgang Dürheimer presented the prize and 37,000 Euros ($54,000) prize money to van Overbeek.

As the driver, co-founder and co-owner of the Flying Lizard Motorsports Team, Johannes van Overbeek was the runner-up in the GT2 class of the American Le Mans Series (ALMS) in a Porsche 911 GT3 RSR. Winning the races in Lime Rock, Mid Ohio and the Ten-Hour Petit Le Mans at Road Atlanta, the 34-year-old van Overbeek, together with his teammate Porsche factory driver Jörg Bergmeister (Langenfeld, Germany), remained within striking distance of the GT2 championship until the last race of the season. He has finished fifth, seventh, and second respectively in the Porsche Cup competition over the last three years before winning the trophy for 2007. Johannes' previous experience before joining the Lizards included 38 races in the Speed TV World-Challenge, where he finished on the podium 16 times, and a third place finish overall at the
2003 Rolex 24 at Daytona.
Second place in the Porsche Cup standings went van Overbeek's Flying Lizard teammate Darren Law (USA), who received 23,000 Euros ($33,500), while Wolf Henzler (Nürtingen, Germany), who drove for Atlanta-based Tafel Racing in ALMS, finished third and took home a check for 18,000 Euros ($26.200). Law also accumulated points from his results driving the Brumos Porsche Riley in the Rolex Grand-Am series.
G/O Media may get a commission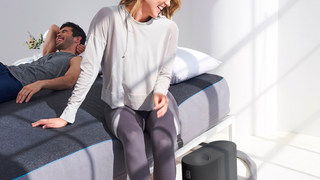 Eight Sleep Pod Cover

Other top 15 Porsche Cup finishers who earned their points racing in North America included Marc Besseng (Germany), who was on the winning GT team at the Rolex 24 at Daytona (seventh); Butch Leitzinger (USA), who drove the Dyson Porsche RS Spyder in ALMS (eighth - tie); Andy Wallace (England), Leitizinger's co-driver for Dyson (eighth - tie); Chris Dyson (USA), Dyson Racing Porsche RS Spyder (10th - tie); Guy Smith (England), Chris Dyson's co-driver (10th - tie); Andy Lally (USA), Rolex Grand-Am GT series with TRG Porsche 911 GT3 Cup and ALMS with Dyson Racing Porsche RS Spyder (13th); and Dirk Werner (Germany), Rolex Grand-Am GT champion for Farnbacher Loles in a Porsche 911 GT3 Cup.

Van Overbeek becomes the fifth American driver to win the Porsche Cup since its inception in 1970. Others have included Price Cobb (1994), Cort Wagner (1999), Mike Fitzgerald (2000), and Kevin Buckler (2002).

A complete list of Porsche cup winners follows this release.
Long to Drive for Penske in 2008
In an equally exciting development for Porsche racing fans in North America, Patrick Long, the only American Porsche factory driver (from Southern California, but now living in Tampa, Florida), has been promoted to a full-time position at Penske Racing to drive the Porsche RS Spyder in the American Le Mans Series for 2008. Long, 26 years-old, has already proved his skills impressively at the wheel of the Porsche 911 GT3 RSR in Gran Turismo events, winning the GT2 Driver's Championship in the American Le Mans Series in 2005 after clinching five races and finishing as the runner-up a year later in 2006. In 2004 and 2007, Long won the 24 Hours of Le Mans (France) in a 911 GT3 RSR. This past season, Long and Jörg Bergmeister also drove the Ruby Tuesdays Alex Job Racing Porsche Crawford in Rolex Grand-Am, winning one race and finishing in the top five a number of times. [Source: Sports Systems]