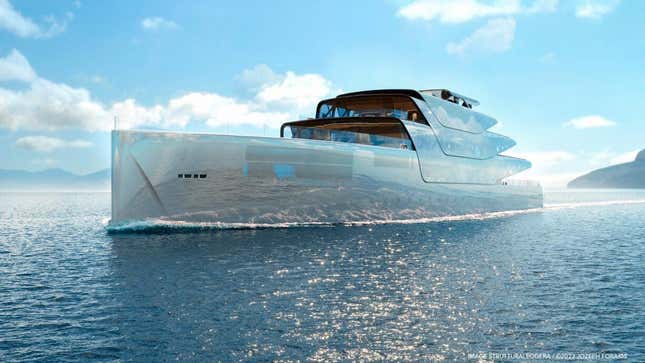 Some that cater to do or make things for the wealthy are starting to realize that being wealthy shouldn't mean excessive consumption. Sustainability is less tacky and is better for the planet. Sustainability is the reason behind a new yacht concept. CNN reports the concept is not only sustainable and eco-friendly, but it'll also be 3D printed and "invisible".
I Think You Should Leave Is Full Of Comedy About Cars
The yacht is called the Pegasus. The 288-foot-long concept is the result of work done by Jozeph Forakis and his design company. He says that the idea for the ship came to him one day while he was on a beach in Greece. "I was inspired to create a yacht as close to the sea and nature as possible, made of clouds floating above the waterline. I wanted to honor nature by blending into it, becoming virtually invisible," he said. Every single aspect of the design is about environmental friendliness and sustainability. And there are actually some great ideas here.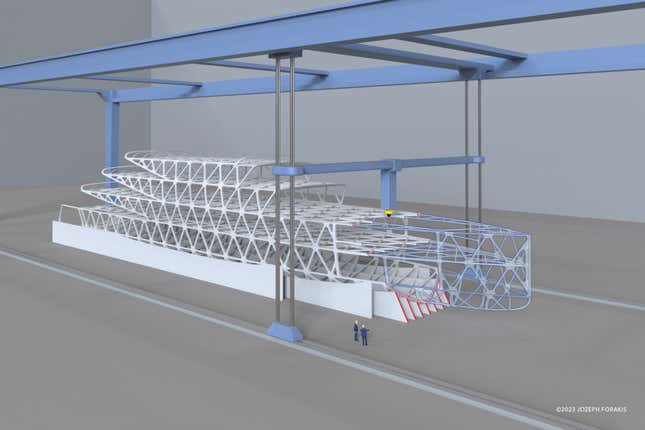 Construction of the Pegasus would be done by 3D printing, which Forakis says will make it the world's first yacht to be built using the tech. It'll have a unique framework that combines the hull and the superstructure. Around that superstructure, Forakis says the Pegusus will be fitted with an array of solar panels. These panels power an onboard electrolyzer that will in turn extract hydrogen from seawater, which will then be turned into electricity that's stored in onboard battery packs to power the vessel's systems.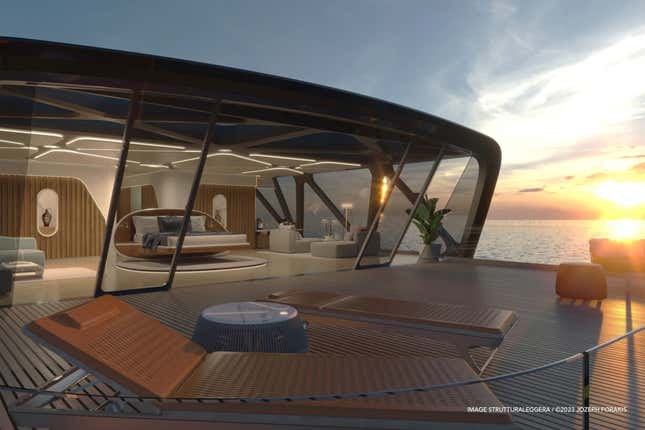 Inside the yacht will it'll have amenities like a pool club with a lap pool that doubles as a helipad when it's covered, a beach club, and fold-down balconies.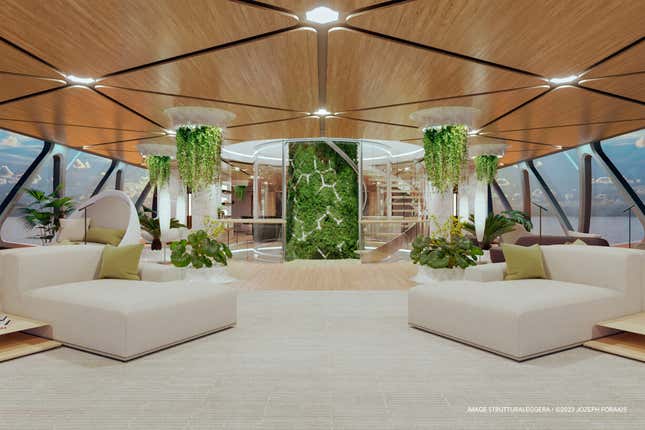 The centerpiece of the interior though is what Forakis calls "The Tree of Life". A collection of live plants and vines that extends through the yacht's four decks, the "tree" is the central part of an onboard hydroponic garden that'll supply the ship with air purification and fresh vegetables.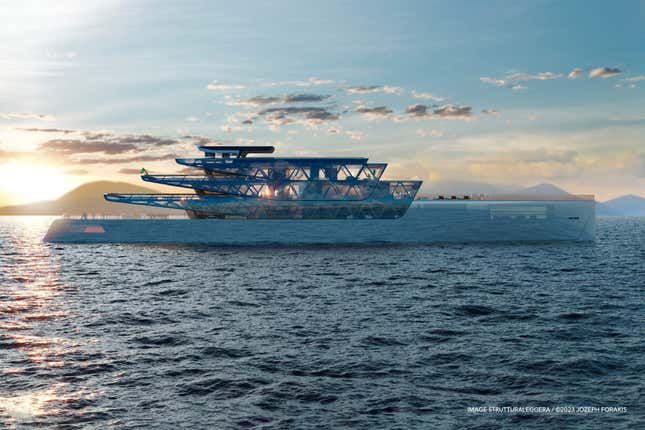 No, all those ideas are well and good. The problem with Pegasus comes in its "invisibility" aspect. The Pegusus will be designed to be "invisible". It'll achieve this invisibility using wings on either side of the vessel covered in mirrored glass. This will be further enhanced by the ship's "silvery metallic" finish. This is a problem for a couple of reasons. Reflective paint can be dangerous. According to other boaters, any paint other than white is going to absorb heat. Worse yet, there are problems with glare at night or the confusion other boaters might see when they look to the horizon and sees something that looks not quite…right.

The other problem is the ship's construction. Forkais is hoping for a 2030 introduction of the ship with a construction timeframe of five to seven years. That actually sounds feasible until you realize that Forkais' team is still gripping with reality. They told CNN the ship was dreamt up using "science fact, not fiction" but "key technologies required to bring it to life will require "further evolution" in order to construct it." Until that key tech makes whatever technological jump is needed to construct this thing, it'll continue to be a twinkle in the eye of its creator and the several interested buyers Jozeph Forakis Design claims to have had for the Pegasus.