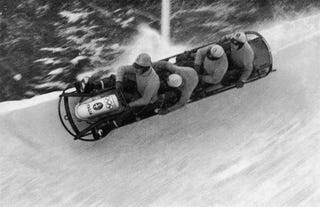 Motor racing in the 1930s was scary. Now remove the tires, add banked corners and ice, and you get bobsleighing. How scary can that be? Consider: contemporary racing drivers wore no helmets. Unlike bobsleighers.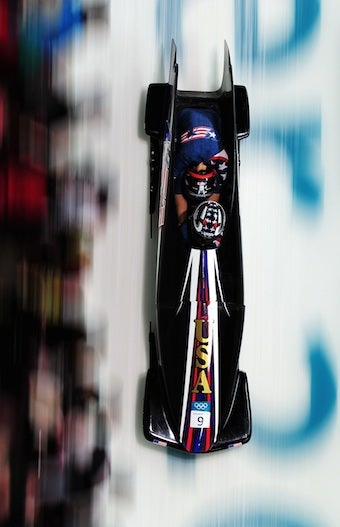 The modern bobsleigh is quite a wonder. One hundred and fifty years after its invention by mischievous British aristocrats in the Swiss resort town of St Moritz, it is a fantastically aerodynamic shape honed in wind tunnels, used by two- and four-man teams for high-speed gravity runs on ultra-smooth ice, attaining speeds of over 100 MPH.
For most of the roughly 90-seconds runs on the 1300–1400-yard tracks, a bobsleigher cannot see a single thing, hunkered down inside the sled, where she is subjected to several g's of acceleration in the banked corners.
Whistler Sliding Centre, the ice track used at the Vancouver Winter Olympics, got off to a foreboding start when the Georgian luger Nodar Kumaritashvili was killed a day before the opening ceremonies. It is a fast track, built mostly for the very elite of the sport, and it has seen numerous crashes over the past two weeks of competition. No further deaths, but a number of minor injuries.
But at least the modern ice track carries a nod toward safety and the competitors wear modern crash helmets. The same cannot be said of their '30s counterparts. The clip below is from the Hungarian newsreel archives and shows the winners of the 1932 German bobsleigh championship complete their winning run:
The title card at the beginning translates to:
GERMANY—The winners of the annual German bobsleigh competition took 1 minute and 25 seconds to cover the 1500-meter (1640-yard) track.
It appears that the pattern of pre-war racing cannot be complete without trees and humans crowding around the track. The trees are gone now, but the humans remain: on runs down Whistler Sliding Centre, set behind a modicum of fencing, you can see spectators reaching for the sleighers, cameraphones in their outstretched hands.
For more great photographs of vintage bobsledding, check out the work of Alfred Eisenstaedt and others, available for personal use from Life.
Photo Credit: STAFF/AFP/Getty Images, Shaun Botterill/Getty Images, IOC Olympic Museum /Allsport, LEON NEAL/AFP/Getty Images. Hat tip to Markoferko.