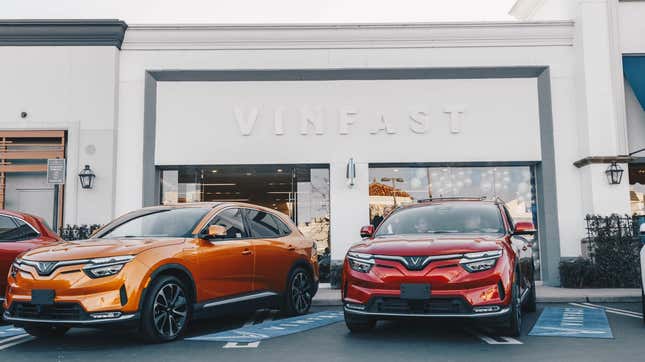 VinFast can't seem to catch a break. After a disturbing and mostly scripted first drive in Vietnam, the second batch of EV crossovers finally made their way to the U.S. So far it's been a disaster, with near universal panning of the VF8. Now it would seem the technical difficulties that some of our industry colleagues experienced on the first drive have been plaguing owner vehicles. The NHTSA has issued a recall for the VF8 mere weeks after owners have received their vehicles.
American Car Buyers Are Warming Up to EVs
The issue surrounds the main infotainment display, which can randomly go blank while driving. In any other vehicle this wouldn't be a big deal. But in a VF8, as with most other EVs, the main display not only shows vital vehicle information, it's the only display in the whole vehicle. There is no display for the driver. If you need to know how much juice the battery has left or control the air conditioning, the center display is where it's at.

So far the NHTSA says that the problem has been documented 18 times. But the agency is estimating the problem is more widespread, with an estimated 1,263 VF8s affected. That's broken down to 999 that are potentially dealing with the issue, 153 VF8 fleet vehicles and 111 customer vehicles, all affected by the issue.

Owners shouldn't be too concerned, though — I mean aside from the other issues the VF8 has. The NHTSA says VinFast is rolling out a software update that should fix the issue. It's scheduled to go live on May 25th with notification letters going out to owners by May 29th. While this all would be a minor issue for any other automaker, for a company trying to break into the U.S. market with a vehicle that has already drawn universal criticism from the press VinFast may not be able to shake an image for having problem plagued vehicles.

Update: VinFast has released an official statement about the recall, confirming that there is an issue with the VF8's infotainment screen going blank. The issue affects 999 VF8's built in late 2022.
VinFast Auto has issued a voluntary safety recall of the VF 8 City Edition on which the Multimedia Head Unit (MHU) screen goes blank while driving or stationary. When this condition manifests, the driver can see neither the display's telltale warning lights nor the control icons, increasing the risk of a crash. Although VinFast is not aware of any field reports of incidents, the Company is issuing this recall out of an abundance of caution.

The recall affects the 999 2023 MY VF 8 City Edition vehicles built from July 27, 2022, to November 25, 2022.

Owners will be notified by mail and instructed to bring their vehicles to an authorized VinFast service location for an over-the-air software update at no charge.

At VinFast, the safety of its customers is its top priority as it strives each day to deliver worldclass products and outstanding services.

For more information about the recall, please contact VinFast at 1-833-503-0600 or visit our website at https://vinfastauto.us/