Police in Tempe, Arizona, have released video of a fatal crash involving an Uber-owned self-driving car that fatally struck a woman on Sunday. The clip includes footage from two cameras attached to Uber's Volvo, and shows the car's safety driver looking away moments before the collision. The victim, contrary to earlier reports, isn't seen darting in front of the car.

In preliminary reports offered by Tempe police, the victim—identified as 49-year-old Elaine Herzberg—had been walking outside of a designated crosswalk around 10 p.m. Sunday, when the Uber-owned Volvo XC90 struck her at roughly 40 mph. Tempe's police chief Sylvia Moir told The Arizona Republic on Tuesday that the crash "would have been difficult to avoid" for a human driver or an autonomous car.
Warning: this video contains graphic content.
But the 22-second clip offers more insight into what transpired in the moments before the crash, the first known to involve a pedestrian being struck by a car operating autonomously. It's almost certainly going to raise questions about the capability of Uber's self-driving technology, if not also how it prepares safety drivers who operate the company's autonomous cars.
G/O Media may get a commission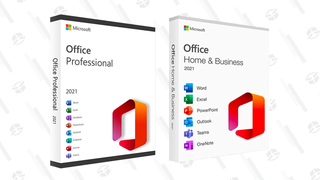 89% off
Microsoft Office Professional 2021 Lifetime License
"I am appalled," Bryan Walker Smith, a professor at the University of South Carolina's School of Law who studies autonomous car technology, told Jalopnik by email.
A safety operator was behind the wheel, something customary in most self-driving car tests conducted on public roads, in the event the autonomous tech fails.
Prior to the crash, footage shows the driver—identified as 44-year-old Rafaela Vasquez—repeatedly glancing downward, and is seen looking away from the road right before the car strikes Herzberg.
Contrary to earlier reports from Tempe's police chief that Herzberg "abruptly" darted out in front of the car, the video shows her positioned in the middle of the road lane before the crash.
Based on the exterior video clip, Herzberg comes into view—walking a bicycle across the two-lane road—at least two seconds before the collision. In the interior footage, Vasquez appears to be looking down in six of the seven seconds prior to the crash.
Tempe police pushed back following the video's release, saying Moir's earlier remarks had been taken out of context.
"While we recognize two media outlets have attributed exclusive interviews with the chief, we respectfully disagree with how their claim of interviews have been criticized," Sgt. Ronald Elcock, a spokesperson for Tempe's police department, told Automotive News. (A spokesperson didn't respond to Jalopnik's request for comment on this point.)
Along with Tempe police, the video is being examined by investigators from the U.S. National Transportation Safety Board and the National Highway Traffic Safety Administration are looking into the crash.
In a statement, an Uber spokesperson called the video "disturbing and heartbreaking to watch, and our thoughts continue to be with Elaine's loved ones.
"Our cars remain grounded, and we're assisting local, state and federal authorities in any way we can," the spokesperson said.
Walker Smith said the video doesn't offer a "full picture," but it "strongly suggests a failure by Uber's automated driving system and a lack of due care by Uber's driver (and by the victim)."
Walker Smith pointed out that Uber's LIDAR and radar equipment "absolutely" should've detected Herzberg on the road "and classified her as something other than a stationary object."
"If I pay close attention, I notice the victim about 2 seconds before the video stops," he said. "This is similar to the average reaction time for a driver. That means an alert driver may have at least attempted to swerve or brake."

He continued, "Of note: Pedestrians often get all the blame for crashes because they're no longer alive to defend themselves—and because we don't have video."
In a statement released with the video, Tempe police said its Vehicular Crimes Unit is actively investigating details of the crash, and more information will be provided as it becomes available.
Once the investigation's complete, the police department said, it expects to submit the case for review to the Maricopa County Attorney's Office, which didn't immediately respond to a message for comment.
This post is being updated.