According to the admittedly not 100% reliable source the Mirror, the Top Gear producer who was attacked by a wild Jeremy Clarkson is 36 year old Oisin Tymon. Tymon has been an assistant producer on Top Gear since 2008, and the recent incident of talent-on-producer violence was caused by a late dinner. Really, Clarkson? A late dinner?
Again, at this point all of this is alleged, but a few basic facts are being reported on a number of sites: the punching victim was Assistant Producer Oisin Tymon, and the Clarkson decided to punch him because his dinner was late. According to the Mirror:
It is claimed the host, 54, saw red with Tymon, 36, for not getting him dinner in time after filming for the BBC show in Newcastle.

A source said: "Jeremy saw red over a catering issue. He just snapped."
Now, I get that after a long day of shooting and mucking about with cars one's likely to be tired and hungry, especially a fairly substantial fellow like Jeremy Clarkson. But basic human dignity says you don't punch some poor bastard doing his job to feed your ass over a "catering issue."
Unless that "catering issue" involves substituting your Gardenburger with a steaming dog turd on a gluten-free whole-grain bun, there's absolutely no catering-related reason anyone as pampered as Jeremy Clarkson should strike anyone. Period.
If this all proves to be true then, no matter how much I enjoy watching the big lug on TV, I have to say, come on, man. Stop being such a ridiculous, colossal toddler. If Clarkson has any dignity at all he'll make it up to this guy doing his job in some magnanimous, personal way.
G/O Media may get a commission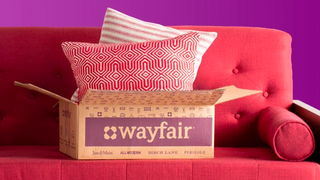 Big deals
Wayfair Surplus Sale
If Clarkson is really smart, he can parlay this into a lucrative Snickers ad or something.
So, he may have punched a guy because his food was late. Ridiculous, if this proves accurate. Is there more to this than we're getting now? We'll keep you updated.