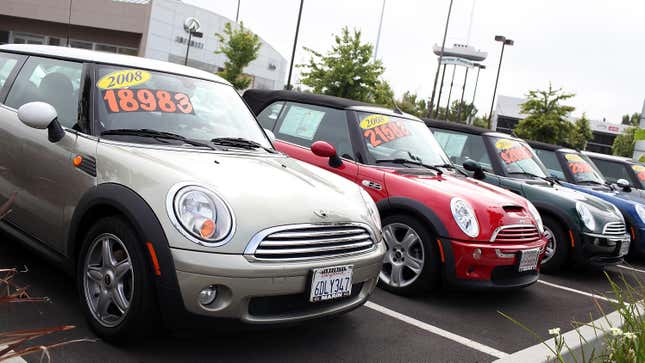 Throughout 2022, used car prices fell steadily, with wholesale prices dropping more than 15 percent. We didn't expect to see a drastic dropoff, but we were hopeful that over the next year, they'd continue to get more affordable. Unfortunately for car shoppers on a budget, that's not what's actually happening.
If this sounds like something you just read recently, you're not the only one. Earlier this month, we reported that used car prices had started to climb again. But as CBS News reports, prices simply continue to increase. In the last two weeks, wholesale prices of used cars have reportedly jumped by four percent. And with higher wholesale prices come higher prices at the dealership.
"We did not anticipate that prices would jump as much as they have," Chris Frey, senior industry insights manager at Cox Automotive, told CBS News. "It made my eyes jump out."
As more new cars became available for sale and used prices dropped, dealers reportedly started stocking fewer pre-owned vehicles. But when tax refunds go out, demand for cars traditionally goes up, so now dealers need to buy more cars to prepare. That, in turn, is driving up used car prices across the board.
Another factor that's reportedly driving this price increase is the economy. Despite fears of a recession that has yet to officially be declared, unemployment is low, and businesses added more than 500,000 jobs in January alone. And in a car-dependent country such as the U.S., jobs and cars are strongly linked.
"If you want to point at one factor that drives demand for cars, it's jobs," Ivan Drury, director of insights at Edmunds, told CBS News. "If you've got a job, you've got a car."
So if you're looking at buying a used car but don't need it immediately, it could be a good idea to wait until late spring or early summer. "I don't think this latest increase is a blip. But I imagine prices could come down after spring and tax refunds land," Frey told CBS News. That said, he's not confident that consumers will see much relief later in the year. "We've been calling for a four-percent decline in prices from December last year to December this year," Frey continued. "We may have to revise that."