Welcome to Used Car Face Off, where we find two similar or similarly priced used cars and ask you which one you would buy. Choose wisely!
Shocking, the price of used cars these days. Tidy pre-owned cars for a low price haven't been available in the same abundance they once were, especially old economy cars that were commonplace not that long ago.
A shame, because there are a lot of cheap gems if you move off of the traditional small car. But you're always going to pay more if you buy something out of the norm, like the two Japanese small hatches I've assembled today.
The Subaru Jusy is definitely an off-the-center choice for economical Japanese hatchbacks from history. It's also a tiny piece of the company's history that came just before Subaru truly became a household name with hits like the Outback and the Forester. But those in the Subaru loop know the Justy is a hidden little gem. Well, at least a hidden little quirk. And yes, this lovely 1990 Justy has 4WD.
G/O Media may get a commission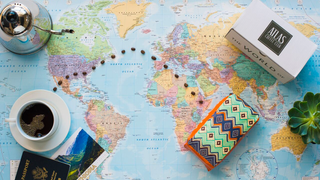 First Bag Free
Atlas Coffee Club - Free Coffee
Explore global coffee
With each bag, Atlas includes details on the coffee's tasting notes and a postcard about the region and its coffee history. And when you subscribe, you have options to tailor frequency, grind size, and roast preference of your beans, so you'll always be brewing the perfect cup.
It's bargain basement inside the Justy, but that's OK for a basic all-weather runabout. At least there's attractive early-1990s upholstery. The Justy was one of the first cars in this country to have a CVT transmission, so if you're not a fan place your blame here. At least the push-button 4WD and the great dashboard graphic is in place.
The Justy is a tiny car, but the 1.2-liter 3-cylinder isn't going to move it anywhere quickly. With 85,000 miles on it, it's probably one of the best examples remaning in the country. At $4,400, though, it's not cheap.
And why pass up all of the space of a 1989 Honda Civic Wagon for just $600 more? Perhaps a prediction of today's Fit, the old, tall Civic Wagon is one of those brilliant packages that should've been replicated by everyone. But don't feel too bad, it was a pretty popular car in its day. Now you can relive 1989 and start a moving service to pay off your car loan.
If you're the kind of person who likes to be able to move all of your belongings in your vehicle, the Civic is a contender. A vast area and split-folding seats make it a much more practical proposition than the Justy, even if this one isn't one of the Real-Time 4WD variants – that would be really awesome.
Still, $5,000 for this? It has 13-inch steel wheels and one side mirror! It does have a claimed 31,000 miles, though and is lovingly preserved. It could last forever, as many of these have done. It could be yours.
But it wouldn't be mine. I'm swayed by the constantly unfolding quirkiness of the Justy. Buy the Civic and wave at me as you pass me by, exasperated and enjoying the Subaru.