Welcome to Used Car Face Off, where we find two similar or similarly priced used cars and ask you which one you would buy. Choose wisely!
I went searching the Internet this week looking for an AMC Javelin. AMC probably would not have been on my mind so much this year had there not been an election going on with a certain candidate who had the same secret service name as the muscle car from his dad's former car company.
As someone who does have a soft spot for an underdog, I went looking for a Javelin with one of those bizarre exterior graphics they used to offer when I found another two-door AMC with slightly more tasteful graphics.
G/O Media may get a commission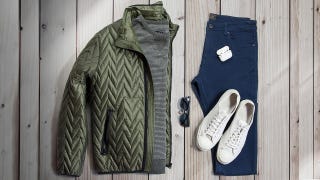 60% off
Jachs NY Fall Sale 60% Off
This '69 Ambassador SST Coupe is really quite attractive in my opinion, though I guess it's not a 1970s AMC that would've had lots of multi-colored stripes on the outside. It still has a vinyl roof, though. The Ambassador was the model to show everyone how high you sat on the company ladder, which is why there's fake wood not only on the interior, but also on a little stripe along each side of the car. Another period touch I really like are the "Safe Command" brakes, which I think is a fancy way of saying power brakes. Being a big car, it has a big engine in the form of the 390 V8 that was once rated at 315 horsepower. Sounds like a lot, but it probably weighs 315 tons, too.
I joke, but I really like this car and not just as a big '60s American coupe, but as a car and a styling exercise. It's the details like the side mirrors and taillights that really get me and the fact I can't remember the last time I saw one. Or if I've ever seen one. What's more, it's a great example of what used to be an American tradition: the personal luxury car.
But you can't bring up personal luxury car without bringing up the Buick Riviera. You'd think with Buick's newfound youth (relatively speaking) a new Riv would be on dealer's lots right now. Instead, we have to look at the good old ones. Like this, a 1966 second-generation Riviera. This one is really a good, old one because it's got the original license plates and according to the owner, the 425 V8 it came from the factory with. The second phase of the Riviera wasn't as pretty as the 1963 model, but it still looks good today in a sort of restrained way that never really caught on with the designers at Cadillac.
Perhaps, though, I'm a little too drawn to the originality of the car because of the old rubber Buick mats and matching exterior and interior colors. And the price of $17,500 sounds kind of rich for a car that, while original, isn't showroom fresh. But it is, after all, a seriously nice American coupe that doesn't come up in conversation every day. It probably does come up more than an Ambassador SST.
So here are two, somewhat offbeat choices if you were going to look for big American cars of the 1960s. I love the Riv, I really do, but I'm oddly drawn to the Ambassador. It's more old man-ish than a Javelin or even a Marlin, but I think it's a sorely underappreciated car that could turn some discerning heads.
So what do you think, the Ambassador or the pretty Buick? Or are you reading this this week and going, "Why isn't anything turbocharged?"
Photos credit eBay